Going off-road is one of the most exciting and most rewarding trips you can take. If you're looking for a great way to pump up your adrenaline, this could be the one for you.
Apart from this, you may have a closer look at nature, break from your busy city life, and practice your crazy driving skills on the dirt.
Yet, before you obtain the rewards, you need to keep your car well-maintained. This will help in making your ride safer and more convenient.
For that purpose, here's a complete pre-departure maintenance checklist before going off-road. So, read on!
Pre-Departure Maintenance Checklist Before Going Off-Road
The last thing you want to happen is to get stranded in the middle of nowhere when driving offroad.
You know well that you can't just push your way back to a paved road, and there's a high chance that no one will be able to tow your vehicle. 
Say that you went to Queensland and visited Rum city. The three most popular tracks are Kinkuna National Park, Norval Park Beach, and Goodnight Scrub National Park. 
If your vehicle breaks down on you in those places, you can rest assured that someone else will see you—as there are a lot of off-road drivers who'll be there to have some fun as well—and contact a mechanic in Bundaberg for you. 
However, if you decide to go to the Simpson Desert, it may take a day or two before you can reach for help if your vehicle gives up on you.
While the view there is to die for, being stranded for a long time can be exhausting.
Just the thought of those things happening to you can be pretty scary. For that reason, make sure to follow all the reminders mentioned below for safety and security reasons.
Print them out and review this checklist before you drive to your destination. Always keep in mind that being prepared is crucial all the time.
#1. Check The Tires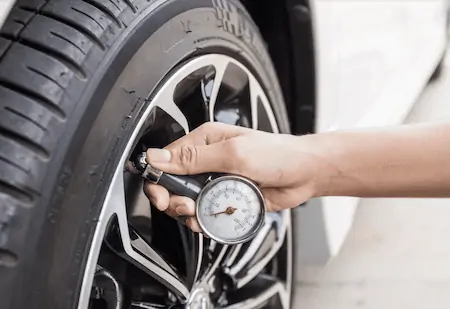 Before you set off for the rough road, you need to inspect the quality of your tires. These parts should have the texture and grip to take the right traction in different types of terrain.
Many drivers prefer wider tires for loose gravel, sand, and sticky mud. On the other hand, they choose narrow tires for hard surfaces, like hard-packed dirt and rocky terrains.
Today, most all-terrain tires are already designed for various types of terrain, so they're considered good options.
Apart from the texture and width, you need to check your tires' air pressure.
Bear in mind that 32-40 psi (pounds per square inch) is the ideal range for tire pressure, but to be sure of your vehicle's ideal tire pressure, you may check your car's perfect tire pressure on the tire info or at the back of the driver's door.
If you're in Sydney or nearby areas, you may bring your car to any shop offering tyre fitting Sydney and other services like tire replacement and wheel alignment.
This way, you be a hundred percent sure that your tires are ready for your next drive.
#2. Inspect The Battery
The battery produces power for your car. Hence, it's a must to check it before you hit the road. You may start by inspecting it physically.
If it shows signs of corrosion and white smears, you need to disconnect it and manually remove the hardened stains before using it again.
For further checking, you may use a multimeter. Connect this device to the positive and negative terminals.
If your battery's voltage doesn't reach around 12.6 volts, your battery may not be in good working condition and may need recharging or replacement.
If your battery's voltage is below five when your car is running, you may need to replace it as soon as you can.
#3. Monitor The Fluid Levels
Most parts of your car have fluids to keep them in excellent condition. These fluids may serve as lubricants, cleaning agents, and many other functions.
However, these fluids are used up in the long run thus need to be replenished.
Because of this, you need to check the fluids to ensure that they're on safe levels. Such fluids include engine oil, brake fluid, power-steering fluid, engine coolant, and washer fluid.
#4. Examine The Lights
Aside from the headlights, you need to buy spare bulbs if the lights get broken during your trip.
You may also consider purchasing LED lamps for better road illumination, especially if the roads you'll travel to are expected to be dim.
#5. Tighten The Lug Nuts And Bolts
Tightening your lug nuts and bolts is necessary before you start your off-roading. The nuts and bolts in your wheels loosen because of the vibration and road stress during driving.
Furthermore, tire rotation and replacements loosen the locks. When this happens, your driving becomes wonky, and you may find it challenging to maneuver your car.
To avoid excessive vibration while driving, you may use a torque wrench to tighten the lug nuts.
Apart from the bolts, you may also check the screws, washers, and nuts in the exterior portion of your vehicle to ensure that they're properly fastened.
#6. Prepare A Complete Set Of Tools
Having a complete set of tools is essential in off-roading. This could provide an instant solution to any car trouble, including a simple tire puncture or an overheating radiator.
Apart from the simple fixes, the tools could also help provide short-term solutions to significant car problems, such as engine failures.
However, it's always suggested to bring your car to a qualified auto shop to conduct maintenance runs on your vehicle.
This way, you'll know the minor car issues that may escalate into bigger problems. Still, it would help if you had your toolbox for cars, regardless of whether your vehicle has been through regular checkups or not.
For more ideas, the following are some of the tools you need to bring:
high-lift jack

portable air compressor

spare tire

wrenches

screwdrivers

vise grip

socket set

pliers and wire cutters

rubber mallet

puncture gum
#7. Gas Up
Apart from gassing up your car's full tank, you also need to bring a spare tank of gas. This way, you ensure that you have enough fuel for your ride.
In addition, you may need to locate the gas stations along the road so you can replenish your consumed gas if possible.
You may also need to monitor how much your car consumes gas to anticipate your next gas refill.
Also, keep in mind that old vehicles tend to consume more fuel than newer ones unless the latter has some fuel-related troubles.
#8. Bring Your Travel Essentials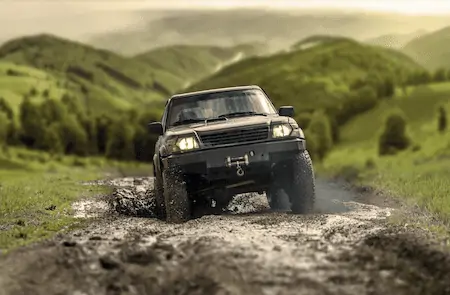 Travel essentials differ in each case. Longer trips may need more spare items and food to keep you full. On the other hand, shorter ones may just need some bucks and important items to keep you going for shorter driving.
Yet, both these trips should include the following essentials:
driving license

car registration

spare water for the radiator.

fire extinguishers

spare

winch

, if it applies to your vehicle

tow rope, according to your car's weight
Final Thoughts
The essentials mentioned in this article will make your trip more enjoyable as they reduce the hassles along the way.
Yet, apart from completing what's in the pre-departure maintenance checklist, you should ensure that you're healthy and ready for driving.
You need to have enough sleep and rest before taking the wheel for that purpose. You may also need to monitor the upcoming weather on the day of your trip. 
If you and the weather aren't suitable for long hours of driving, you may need to reschedule your trip until such day that your car, the weather, and you are entirely ready to go for the road.