An off-road trip can be an eye-opening experience as it is a mix of fun, challenge, excitement, and apprehension. You may be an avid road tripper, but off-roading is an altogether different ball game.
Do not consider yourself ready unless you know the real challenge. However, you need not think a lot before embarking on your first trip.
A good understanding of your vehicle, clear expectations, and safety precautions set you up for a great experience.
Here is a beginner's guide to help if you plan to start from scratch or have little experience with off-roading.
8 Essential Off-Roading Tips for Beginners
#1. Start with Mental Preparation
Before embarking on your first off-road trip, you must be mentally prepared because it is even more crucial than physical readiness. Knowing the upsides and downsides always gives you realistic expectations.
Going off-road is your chance to relish the outdoors, but it also gets you out of your comfort zone. You need to overcome your fears as you get on an unknown trail.
You will probably encounter obstacles like rocks and creeks, and mental strength is the only way to overcome them. Even the best vehicle will not get you there unless you have the fortitude to give it a try. If you are mentally ready, you are almost there!
#2. Do Your Research
While mental preparation gives you a good start as a beginner, doing your research is essential. Getting some tips from a seasoned off-roader helps, but the internet takes you far ahead.
You can access countless resources online, from personal stories to tips and tricks, YouTube videos, and expert insights. You can even ask questions and clarify doubts on online forums.
Learn the lingo and list the essentials you will need to make the trips safe and enjoyable. A beginner's research can take time and effort, but it gets your confidence soaring when you hit the track.
#3. Take an Off-Road Course
Research helps a lot, but it does not give you a practical experience of off-roading. Signing up for a specialized course is a good idea if you want to check how it feels.
Fortunately, most cities have driving schools that offer off-road driving lessons. Joining a course makes you comfortable with the idea of handling the vehicle by yourself.
It also helps you enhance your skills and capabilities, as you have to handle unforeseen events when you are on the trail.
#4. Invest in the Right Vehicle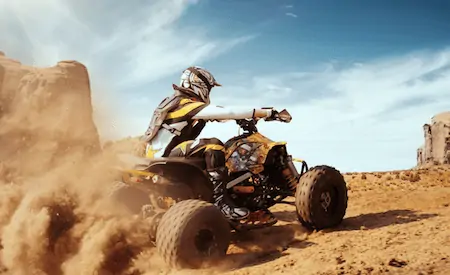 If you are serious about off-roading, it makes sense to invest in the right vehicle. A 4X4 vehicle is ideal for rough driving.
You may buy a brand new one or modify a used one to fit it into your budget. You may even get a modified vehicle for sale if you explore your options.
As a beginner, you may not have an idea about the modifications to make. Consider switching the tires, suspension and bushings, skid plate, and bull bars to start with.
Give attention to details like jdm shift knobs, as they can make a difference to driving comfort. If you aren't sure, talk to an expert to get guidance for off-road modifications.
#5. Buy the Essential Equipment
Investing in the right vehicle is only half the work, as you will need much more before embarking on the journey. Research online or talk to an expert to prepare a checklist of essential accessories.
Prepare for all situations because you can never be too sure about what you can face. You will require a winch to haul your truck if it gets stuck in the mud or a ditch.
Pick one with a remote as you can operate it from a distance, even from the driver's seat. Other essentials include spare tires and tools to change them, a shovel,  a portable air compressor, and tow rope.
You may need them anytime, so gear up before you leave.
#6. Do Not Skimp on the Basics
As a beginner, you will be concerned about the vehicle and accessories. It is easy to forget the basics, but missing out on them can ruin your off-roading experience.
Get your gas tank full and ensure refills from time to time. Carry spare water for the radiator as well. You will also need a first-aid kit to deal with injuries when you are in the middle of nowhere.
Pack ample food and drink to last through the ride.
Do not forget warm clothing because the weather may not be favorable throughout the trip and camping in cold weather without proper clothing is life-threatening.
A satellite phone and GPS can keep you from getting lost on an unknown trail.
#7. Understand Traction
Beginners often struggle with understanding how traction works. It is about how well your tires grip the ground. Losing traction is risky as it can lead to your truck spinning out of control or going off the trail.
Bigger tires with deeper tread offer better traction and grip the ground. But you cannot depend on them alone for having good traction.
You also need to master the speeding and braking techniques to ensure it. Going slow with them makes a difference.
#8. Start Easy and Learn the Ropes
Another tip that off-roaders must follow at the start is to take it easy. The worst thing you can do is take up an uncharted trail for your first trip because it can get outright dangerous.
Choose an easy dry track as a beginner and move to sandy, muddy, and rocky areas down the line. The best piece of advice is to practice and learn the ropes with practical experiences.
Consider spending a few hours on the weekends to practice the skills, and you can plan longer trips once you are more confident.
Verdict
Following these tips sets you up for an easy, enjoyable, and safe off-roading experience every time you hit the track. It is important to have realistic expectations because your first time may not be the best one.
Have patience and ramp up your driving skills by practicing on different tracks and conditions. Ensure that your vehicle has the best features to give you the smoothest and safest rides, regardless of the trails you choose.