Is your car troubling you when you are heading for an important office meeting? Is your car's battery dead?
We all know the early morning rush we face every day to be on time at the office. There are some days when everything seems to go wrong.
You wake up late, you take a quick shower, skip your breakfast, and land up to start your car for the office, but the engine won't start.
All effort goes to vain as your car's battery is dead.
You start agitating and confused about what shall be done to jumpstart your automatic car without another car.
This is a serious nightmare one could ever face when one is heading for the office.
If you ever face this problem, stop trying to start your car immediately. If the battery is dead and you try to start again and again, it could cut the engine fuse.
The Bottom Line
Identify which one is bad – battery or starter motor or a fuse.
You can't start an automatic transmission car by pushing it like a manual one.
A jump starter is mandatory.
An Insight Into Jump-Starting the Automatic Car
Well, this kind of trouble is not welcomed in any way.
What will you do now? Will you look for a cab?
You might also think of calling your neighbor to help you to use their battery to jumpstart your car.
However, everyone has faced this kind of trouble once in their life.
In such a situation, you feel completely lost and agitated at the same time. You become clueless about what should be done to avoid being scolded by your boss at the office.
Therefore, things become very challenging at that time to come out with a good solution.
What is the Role of a Dead Battery?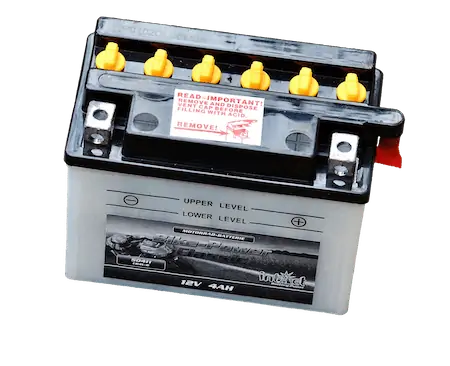 A dead battery is a common problem everyone experiences with their cars. A car with a dead battery is of no use to the motorist.
This problem generally happens when you would try starting a car after switching on its ignition without any response. This happens due to a faulty ignition or ignition switch.

You will also notice cluster light dims, and, other electrical components don't work.
Therefore, if your car fails to start or respond the common reason is your car's battery is dead. This clearly shows your car's battery is faulty.
However, if you notice cranking noise from your engine, it could be a bad starter rather than a dead battery. Don't worry! Here's how to solve the bad starter problem.
Factors Leading to Dead Battery
Various factors can cause a dead battery and make your vehicle hard to start. This includes a deficiency of gas, a faulty fuel pump or starter, and a broken cable line.
On numerous occasions, a majority of drivers would consider jumpstarting their vehicle with another person's vehicle battery.
Later on, they would find the closest garage for getting the battery checked. This is one of the immediate solutions one could get at that time.
Therefore, it could be a worse situation if you reach the office late and get scolded by your boss. You could sense that everyone has left for their morning work and you are left with no help around.
What could be the worst situation than this?
So, the important question lies what could you do without a jumper cable or another car to start your car? What can be done when your car is automatic and not manual?
3 Proven Methods to Jump-Start an Automictic Car
Now, let us discuss what method could be implemented to jumpstart an automatic car without another car.
Method 1: Use a Jump Box
Every driver or motorist should own a jump box in their car. Jump Box is also known as 'Battery Pack'. It works as a small battery that acts as a backup for your car when the battery is completely dead.
This small battery holds enormous power to charge up your dead battery and make your car function normal.
It generally comes with its jumper cable along with an instruction manual. The instruction manual guides you on how to connect the small batter to your dead battery.
It's simple and easy to use in case of emergencies. You can also call it a 'Jumper Starter'.
Thus, don't go with its size; it has a great capacity to run your dead car with great speed. This surely means you can jumpstart your automatic car without seeking help from others in such situations.
Therefore, this jump box will help you out with the battery issue that your car is facing midway.
Using a Jump Starter
In case the battery has died, you can make use of the jumper cables for jump-starting your car from some good vehicle.
When you are able to safely make use of jumper cables on the vehicle, it is important to ensure that the battery on the other vehicle has ample voltage as your own vehicle.
If you are able to hook up the respective cables properly, other factors do not matter much.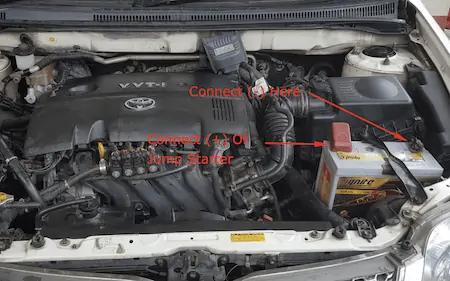 Some of the additional steps to look into are:
Take out the jumper cables.
Position both the vehicles in the neutral or park mode while shutting off the ignition.
Link one of the red clips to the battery's positive terminal.
Link the remaining red clip to the other car's positive terminal.
Link one of the black clips to the battery's negative terminal.
Link the remaining black clip to the other car's negative terminal.
Start the vehicle that is working and allow the engine to run for some minutes.
Try starting your vehicle. In case it would not start, ensure that the cables are connected properly while allowing the other vehicle to run the respective engine for some minutes. Then, you can start the car again.
Method 2: Roadside Assistance Service
If you are failing to try all other methods for fixing your dead car battery then the last option is to call a roadside assistance service. The roadside assistant service is highly popular in the USA.
However, look for a reputable towing company that can handle your car professionally. The roadside assistant service generally provides help during emergencies when you have a flat tire, road accident, dead battery, and various others.
Also, roadside assistant service is generally given into your vehicle or bike's protection or insurance plan, but you will need to check your particular insurance coverage—roadside assistance service telephone numbers are generally imprinted on your car insurance card, more here.
The towing company provides immediate assistance from recovery to boosting. They are at your service anytime and you are free to call them in time of emergencies.
Method 3: Use Portable Charger
The only technique to start an automatic vehicle with a dead battery can be by using a battery charger that is portable.
If you are driving an automatic vehicle, ensure you have a basic convenient portable charger in your car's emergency toolkit.
Therefore, with these great alternatives or choices, you can fix your dead battery in time of emergency.
As a result, you can sit back and relax to fix the battery issue by implementing these methods to avoid being late at the office or being scolded by your boss at the office.
With these easy and simple methods, you can kick start the engine again without bothering others.
These methods are highly advanced just like your automatic cars.
The Bottom Line
Also, a dead battery and no jumper cables appear as though it's the stopping point for saving the vehicle that day, yet that isn't always the case.
These supportive tips could help you out of a circumstance with a dead battery in any situation when you don't have jumper cables.
However, we would prescribe checking to ensure you have an emergency tool kit in your car.
Along with this, make sure you keep track of your battery and service regularly to prevent such problems.