Chevrolet Camaro V6 is a great vehicle model that has been gaining attention for a while for its overall performance. What many people don't find attractive about it is its sound. Among the few ways of improving your V6's sound, replacing the stock exhaust is one of the best.wi
What makes doing the change more interesting is that replacing the old exhaust system with an aftermarket one will not only improve the sound but also will improve your vehicle's overall performance and fuel economy.
The main issue behind going for an aftermarket exhaust system right away is that there are countless options available on the market.
No worries. In this article, we will review the 10 best exhausts for Camaro V6 so that you can shorten your bucket list and can pick one easily without wasting your valuable time.
Top 10 Exhaust for Camaro V6
Why aren't we just telling you one exhaust for Camaro V6 so that you can pick and go? There will be some issues if we do that.
People don't always buy an exhaust to improve the sound only. And some other decisive factors are also there based on which the answer would be different for different types of drivers.
That is why we have picked the ten best exhausts for Camaro V6. You can wander, take some time, and then decide which one is best for you.
So, let's begin.
#1. MRT 91A177 Version 2 Exhaust System
Having an old model year vehicle may give you some worries. It is a very common thing as finding parts of the old model year vehicles gets difficult and becomes rare as time passes. If you have a V6 Camaro that is almost 5-10 years old, this exhaust system may be your best bet.
This pick of ours will be a formidable one for you if your priority is to have an experience of some deep and aggressive sound. Not only that, but this product also shines when enhanced performance is your concern.
An option to support any further mods also makes this product higher in any buyer's purchase list. You surely wouldn't want to change the exhaust system again for the sake of any related modifications.
What are we forgetting? Oh, yes. The build material. MRT 91A177 is also a heavily durable exhaust system since it uses T-304 stainless steel. We think you know quite well what that means. For the least, you won't have to worry about the build quality for a single time.
Talking about build material, here comes the product weight. As the product is comparatively lightweight, it will be pretty easy to install this one. Remember, a compact vehicle part is always a better choice.
And one last thing. This exhaust system is made in the USA. If you are not a Chinese product fan, this one should be on the top of your choice list.
Key Specifications
T-304 stainless steel
3.5" tips
31×13×15
22 lbs.
#2. Gibson 320001 Aluminum Exhaust System
Gibson is a popular name in the field of vehicle exhaust systems. You get brand value and reliability every time you buy a Gibson product. This one is not an exception also.
This exhaust system comes with a Baffled & Chambered Muffler Design to make sure you always get your desired aggressive sound from your Camaro V6. With the help of angular induction, directional louvered tuning ports, and resonance chamber, the muffler tunes the exhaust in a way that it expels sound at a higher swiftness.
Although this one is not made of stainless steel like our first product on the list, the durability it provides is quite promising. Coming with bent tubing of an aluminized mandrel, this lightweight exhaust system can surely beat many other available options out there in terms of quality service.
Although the exhaust system is made of aluminum, there comes a T304 Stainless dual-wall slash polished cut tip as well for your convenience. Plus, the four inches big tips are clamp-on.
Hold on, what about the improvement of performance? Well, now you can enjoy increased horsepower along with improved acceleration with the help of this bolt-on installation-supported exhaust system.
Similar to our first pick, this one is also made in the USA. This means you are getting a fresh USA-made exhaust system, as they don't compromise with quality.
Key Specifications
4 inches tips (T-304 stainless tip)
31×14×13 inches (dimensions)
35 lbs.
#3. Borla (11851) with ATAK Sound
Let's be honest. The couple of names you hear whenever aftermarket exhaust system is the topic, Borla is surely one of them. It proves the statement of how popular and reliable Borla's products are.
Leave all of them aside. Let's see what we are getting here. The inlet or outlet size of the muffler is just fine being 2.5 inches long, especially when you don't want to go for too big-sized mufflers. Experts say that the smaller the inlet or outlet size is, the better the sound will be.
You should already know the benefits of using a compact-sized exhaust system. As this exhaust system weighs only 24 pounds, it will be more convenient for you to use in your muscle car.
The ultimate feature of this exhaust system is that it uses ATAK technology. If you don't know what that is, then you should know it first. ATAK is a dedicated technology to provide you with improved and enhanced sound. This basically allows you to get desired aggressive sound in a precise manner.
All that being said, we still think this feature-packed exhaust system is a bit pricey. Well, if you have no problem with spending, then this one would be a great option to go with.
And again, this product is made in the USA. This means you don't have to worry about the quality service and durability overall. Borla is always the option where you don't need to think twice. Not only for your Camaro V6 but also you can buy Borla exhaust systems for any other vehicle model if it suits.
Key Specifications
2.5″ inlet/outlet
33.6×16.7×10.5 inches (dimensions)
24 lbs. (item weight)
#4. BORLA 140537BC Exhaust System
It's time to introduce you to the second Borla product on our list. This time, it is a more premium one than the previous. This fine piece of art is probably one of the most premium-looking exhaust systems you will see out there.
Now that we are here let's talk about this exhaust system's build quality and design first. This Borla exhaust system comes with a slim and eye-catching outlook. We know that look doesn't matter here, but once you see it, you will definitely have a positive vibe due to its lightweight feature.
Talking about its muffler size, the inlet size of the muffler is 2.75 inches, and the outlet is 2.5 inches. So, you can easily assume the level of convenience you will be having from this one. However, the T-304 stainless steel will ensure that you don't have to worry about its durable performance in the long run.
A significant feature that Borla exhaust systems are obsessed with is ATAK technology. So, they are coming up with this very technology again here in this one as well. This will ensure you get the best sound experience from the exhaust system as expected.
They pay serious attention here because they know the importance of providing detailed and precise sound to the drivers. With the roaring vibe you usually expect from an exhaust system, Borla is determined to provide you such an experience.
Providing a million-mile warranty makes a statement about how confident Borla is about its products. You can easily claim a warranty from the manufacturer.
Key Specifications
4″ tips
61 x 16 x 13
62 lbs.
2.75″ inlet and 2.25″ outlet
#5. CORSA 14953 Cat-Back Exhaust System
Let's take a break. We think you have had enough of Borla's exhaust systems. How about moving towards a more premium one? Let's have a look at Corsa's one of the premium products, CORSA 14953 Cat-Back Exhaust System.
The first impression of us looking at this awesome product is "wow!" Is there anything you won't get from this product? As far as we know, no. There is everything you would probably want from an exhaust system.
Starting with the design, this product looks cool. We think the design can pretty much cope up with the price tag as it is a very premium exhaust system look-wise.
Let's see what we are getting as build material in this product. This exhaust system is made of premium steel (T-304 stainless steel). As we have already mentioned, both Steel and Aluminum are good as build materials. Steel tends to be heavier, but in this product, this isn't the case.
Even though CORSA 14953 is a steel-made exhaust system, the weight is fairly less than most of its competitors. It weighs only 21 pounds. This lightweight item will surely give a heads up to this product against its counterparts.
Talking about the exhaust sound, you wouldn't wonder more from an exhaust system. The sound quality is so good that you will instantly realize that, yeah, "it's worth my money"! Such an amazing roaring sound!
We forgot to tell you one thing about the design. It has a dual-walled design that works perfectly fine to protect it from heat distortion very well. The tip will easily fit any CORSA systems, and they are clamped on!
Key Specifications
#6. Flowmaster 817483
If you are looking for an amazing exhaust sound system that comes with high-quality components and a perfect fit, then Flowmaster should be your bet. Unlike many other options, this one comes with an axle-back system.
You should know about the difference between an axle-back exhaust system and a cat-back exhaust system. It will help you get an idea of which one would suit your car the best.
An axle-back exhaust system will only replace the mufflers. By installing an axle-back system, you can get a great sound experience for sure.
On the other hand, a cat-back exhaust system replaces all the exhaust system components from the catalytic converter, including the mufflers. You can go for a cat-back exhaust if you want both aggressive sound and enhanced performance.
But, being an axle-back system, Flowmaster 817483 will not only provide you an aggressive sound but also enhanced performance as because it is Dyno-tuned. So, having such performance within this price range makes it worth enough to spend upon.
Coming back to its build quality, this exhaust system is made of premium stainless steel. Another premium feature to get from an exhaust system at an affordable cost. Even the installation process of this exhaust system is pretty much convenient, not complex like other ones.
There are dedicated hangers and hardware in the package so that you can do the installation without any hassles. We think it's a great option to spend upon if your priority is getting some aggressive sound with durable performance.
Key Specifications
58.5 x 11.25 x 16.25 inches (dimensions)
44 lbs.
#7. SLP 31201 Axle-Back Exhaust
As the name suggests, this one is a vehicle-specific aftermarket part. It will fit in all the 2010-2015 V6 Camaro vehicle models. The title "Loudmouth" says it all! You are actually getting an aggressive sound, louder enough to scream on the street as you want.
If you don't want to bottle up your powerful engine with some obstructive, wimpy muffler, rather want to pack it up with an affordable, powerful exhaust system with quality performance, then this one can surely be your top pick.
Coming with PowerFlo mufflers, this one from SLP ensures minimal flow restriction for an enriched, deep, powerful output of sound.  Being only 23 pounds, it is one of the lightest exhaust systems on our list.
Speaking about the mandrel-bent 3″ tubing feature, it will ensure that you get a top-notch and smooth exhaust flow from the system. If the exhaust flow is smooth, the performance of the exhaust system will also be delicate enough. Eventually, you will get enhanced overall performance from your vehicle.
On top of that, this SLP exhaust is made of stainless steel, and guess what? The polished 4″ hand-made tips make an excellent partnership with this system.
Another interesting thing about the product is that you won't have to worry about the installation process. You will get everything you need to install this system on your vehicle within the package.
So, forget about those factory mufflers and stressful backpressure and now enjoy the easy installation process coming with this one from SLP.
Key Specifications
3″ Mandrel-bent tubing
4″ tips
29 x 17 x 13 inches (dimensions)
23 lbs.
#8. MagnaFlow Cat-Back Performance Exhaust System
So, we are coming back with a cat-back exhaust system again and this time it's from Magnaflow with some exciting premium features. I guess you remember what a cat-back exhaust system is.
Unlike axle-back systems, cat-back ones usually use a catalytic converter to replace the components of the original exhaust system. Magnaflow has put a great deal of effort to make it a solid performer. In fact, the developers tried their best to make it a better component than the stock exhaust.
Talking about its exclusive cat-back feature, dyno tuning and extensive testing make this product promising enough to perform well and optimize factory calibration. On top of that, straight larger mufflers and mandrel bent pipes are there as well to provide maximum flow by reducing exhaust restriction.
This means, now you don't have to compromise with the comfort level of your vehicle's interior noise as Magnaflow will ensure enhanced exterior sound with a powerful performance.
Coming to the point of its build quality, you are getting a premium quality here in this case. Manufacturers have used stainless steel to make this product. So, you can rely on it for long-lasting performance for years without worries.
Besides, the installation process is pretty much convenient too. Plus, the developers tried to make the product as versatile as possible by making sure it fits a wide range of vehicles.
Sounds convincing? We also think this product will be a great choice if you want to buy an all-rounder exhaust system. Another thing we forgot to mention is that this system is 50-state legal.
You won't have to worry about the emission laws. And, of course, just like every other exhaust system on this list, it won't do any harm to your vehicle's warranty.
Key Specifications
Mandrel-bent pipes
57.13 x 12.38 x 15.5 inches (dimensions)
43 lbs.
#9. Dynomax 39522 Ultra Flo Cat-Back
This one may look like a simple and old-fashioned product in the list of some feature-packed exhaust systems. But as long as the product can fulfill our needs, we are okay with it, right?
As this one is a single exhaust system, it is of considerably low price. And we have to look at the features of this product from a low-price perspective.
Let's have a look at the build and design first. Although it costs almost five times lower than a premium exhaust system, you will still get top-notch and premium stainless steel as the build material. In addition, the polished finish makes the products look amazing as it glitters all the time.
Dynomax 39522 has a straight-through design on the inside so that the system gets an unrestricted flow. Besides, the exhaust system is also Dyno-proven so that you don't have to worry about the performance enhancement for a single time. You will be getting almost 1900 HP and 2000 SCFM due to this feature.
Even though we consider this exhaust system as a low-end one, this system has a unique feature. It has CRF technology. This technology is a great thing to have as it absorbs unnecessary internal sound. Plus, the exhaust system will also maintain a deep tone in the exterior sound if the system has CRF technology.
What do you think? Spending just under $300 and still getting tons of features. We think it's worth every penny you are going to spend. If you opt to buy this product, you will be able to spend your remaining money on other modifications.
But remember one thing. As this one is a cat-back exhaust, you should not go for this one if your priority is only to get some rough and aggressive sound.
Key Specifications
Can flow up to 2,000 SCFM
Supports up to 1900 HP
32.7 x 15.6 x 13.8 inches (dimensions)
21.8 lbs.
#10. Spec-D Tuning Universal Exhaust
What if you replace only the muffler of your exhaust system to get the desired sound? It would be really cool, isn't it? The most beneficial outcome of this action will be that replacing only the muffler will save you a lot of money from spending.
Okay. Let's start with the design. With stainless steel as the build material, this muffler looks awesome as whenever it gets the chance, it shines.
Having such a strong build material within this price range is praiseworthy enough. This T-304 stainless steel is a lightweight material and can ensure you higher flow due to its restrictive design.
It can provide almost 5-10 HP for a better mid-range exhaust sound system. Moreover, Coming with a universal size, it fits almost every existing exhaust system out there to express its efficiency.
Even the installation process is super convenient. You can easily fix this muffler to your exhaust system without looking for any experts.
So, what are you actually getting by spending around $40 to $45? You will get a strong and aggressive sound, although it is not the strongest one out there. But we think the output you are getting by spending just around $40 is worth every penny.
If you just want a mere change in the sound output and have a good overall experience with the sound, we think going for only a muffler change is a great option.
Key Specifications
Dual tip exhaust muffler
10 x 6 x 24 inches (dimensions)
5 lbs.
How to Choose the Right Exhaust System for Camaro V6?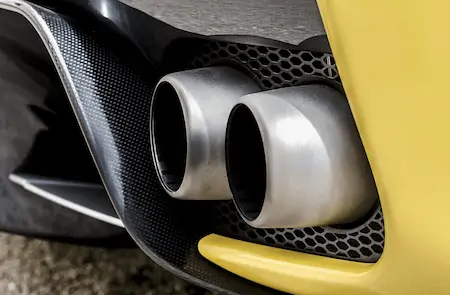 Even though our list is complete (as per our claim), you can buy an exhaust system outside of the list. Who are we to force you to buy one from our list?
Some features may not meet your requirements. That is why it will be very common if you go for an exhaust system outside of our list.
But you must consider the following factors before going for an aftermarket exhaust system. If you follow our buying guide, you will be able to choose the right exhaust for your vehicle regardless of the model, not only for Camaro V6.
Build Material
Aluminum and steel-made exhausts are the most common and trending ones on the market. You can go for both as they serve the same purpose- to keep the exhaust rust-free for a lifetime.
You need to be careful enough if you go for a steel-made exhaust system. There are two types- mild steel and stainless steel. While the former doesn't give you protection from rust, the latter does it quite well.
Although exhausts made of mild steel are a very good cash-saving option, we don't recommend them as they don't last long.
Exhaust Type
The second thing you should watch out for is the type of exhaust you are going to buy. There are mainly three types of exhausts. Header back exhaust, cat-back exhaust, and axle-back exhaust.
Although header back exhaust will give you the best experience of them all, the cost is sky-high to get your hands on one of them. Plus, the installation process is comparatively difficult. For this reason, people mostly go for the next two types.
The cat-back exhaust will give you an overall improved experience, both in the field of performance and sound.
Although the axle-back exhausts were supposed to improve the sound only, modern-day axle-back exhausts also give you a considerable amount of performance boost.
Configuration of Exhaust
You should also know about the configuration of an exhaust system as you will see the terms almost every time you read the description of an aftermarket exhaust. Single, Dual exit and true dual exhaust systems are the most common ones in this regard.
A single exhaust system is simple and serves the purposes of an aftermarket exhaust quite well. You will get the exhaust system, a muffler, and an exhaust tip.
Dual exit systems don't really do much practical change to a single exhaust system. There will be two exhaust tips in place of one. Apart from that, there won't be any difference in real-life performance.
True dual exhaust systems are the most premium among them. There will be two mufflers and an exhaust tip for each muffler. It will boost the performance by a huge margin as the airflow will be much better.
Whether the Muffler is Included or Not
Sometimes the exhaust systems come with a muffler. Sometimes they don't. It depends on you whether you want to replace the muffler or not. You can either create a mix with the stock muffler or replace the stock muffler as well.
Warranty
People tend to overlook this section while choosing an aftermarket exhaust. But you should always consider the warranty period as the warranty period assures how long the manufacturers will back you. Plus, it also reflects their confidence.
FAQs
Can you put dual exhaust on a V6 Camaro?
Yes. Technically, you can. Installing a true dual exhaust system will improve the performance and give you an awesome sound experience.
Why is Borla so expensive?
Borla products are expensive because they don't want to compromise with the quality they provide. While some manufacturers use common mild steel as the material, Borla uses premium stainless steel on their products. Using premium materials to build the products is the main reason for Borla products' expensiveness.
Which one is louder, Borla or Corsa?
Corsa is on another level in terms of giving you a better sound experience. Corsa exhausts are louder as they are of higher pitch.
Conclusion
Our primary goal was to save your valuable time by making a list of the ten best exhausts for Camaro V6. We think we were able to reach our goal. Our list has exhausts ranging from $270 to over $1500. We even have a muffler on the list too.
In addition, the buyer's guide will make sure that even if you opt to buy an exhaust outside of our list, you get a good one. We think our hard work was enough to help you choose the perfect aftermarket exhaust system for your Camaro V6.