Being a racing car fan, you know it really well that how much it is beneficial to add carbon fiber parts to your vehicle.
This material is lighter, extremely stable, and can withstand a great amount of impact energy. This is what makes your car much safer and run faster when these parts are used in the right places.
If you are planning to buy carbon fiber parts for your Corvette C8, you need to consider a few important factors.
In this article, we are going to give you 5 tips on buying carbon fiber parts for your C8 Corvette so that you don't waste your valuable bucks on something random.
Keep reading to get enlightened!
Why Do You Need Carbon Fiber Parts for Your Corvette C8?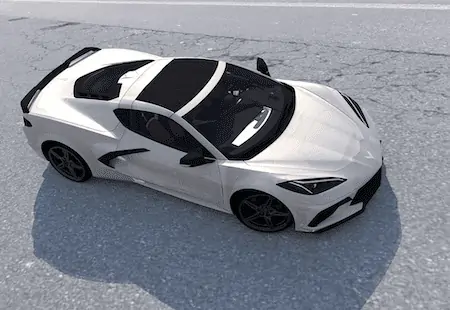 If you own a Corvette C8, this means you are one of those few lucky people who got this special edition after its launch in 2019.
Corvette is one of the most popular racing car brands that gained immense popularity over time. And this C8 edition is a great addition to their lineup due to its first-ever mid-engine built system.
Now, compared to any other material, carbon fiber material has the highest level of stiffness and strength per density. You definitely need strong body parts for your car when it comes to racing. And it is also important to make your car as lightweight as possible without compromising stability.
This is what carbon fiber parts do to your car. They are strong, sturdy, long-lasting, and almost 5 times lighter than regular steel parts.
Moreover, racing cars produce a lot amount of heat when they are built with metal or other regular material. But carbon fiber is the least heat-conducting material that helps you to manage your car with ease.
So keeping in mind all these special benefits of carbon fiber, a racing car owner like Corvette C8 must go for these parts to make their car more efficient and stable.
5 Tips to Follow Before Buying Carbon Fiber Parts for Your C8 Corvette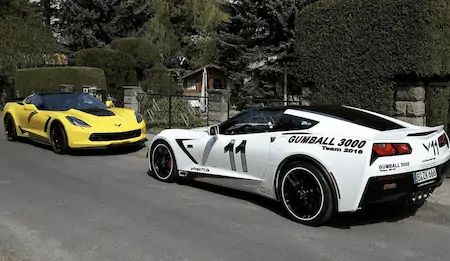 When it comes to buying aftermarket body parts for your Corvette C8, make sure you consider the following factors seriously-
#1. Fix Which Parts You Want to Add First
As the aftermarket industry of carbon fiber car parts is booming with time, you can replace almost all kinds of body parts of your Corvette C8 starting from the hoods to bumpers, fenders, side skirts, spoilers, doors, and what not!
Since these parts are insanely expensive, you need to fix how many of them you want to add to your car.
If you have no issues with investing more money for your supercar, then you can almost change the whole look of your car, along with its performance by replacing most of your Corvette C8 body parts.
But if you want to improve your car performance by investing wisely in some specific parts, then you should go with carbon fiber wheels, hood, side skirts, door frame, and front grille first.
#2. Make Sure You get the Right Variant of Carbon Fiber
Since the market of carbon fiber parts is getting widespread and hugely popular, you have to make sure that you don't get scammed in the name of carbon fiber parts for the Corvette C8.
There are so many variants of carbon fiber materials these days that it may get difficult for you to get the real 100% carbon fiber parts.
So, try to purchase your aftermarket carbon fiber parts from trusted manufacturers, not a random online shop. Otherwise, you will be wasting a hell of a lot of money and get poor results in return!
Among all the variants, Standard Modulus is the most commonly used carbon fiber material that you can rely on.
#3. Consider the Price
As we have already mentioned earlier, carbon fiber car parts are insanely expensive, even 3 to 4 times more than other materials.
That's the reason you need to be careful enough while investing your valuable bucks. Depending on the manufacturers and variant quality, the price may differ. But don't go for cheaper alternatives, since they may not ensure the desired quality.
So, considering the price you are ready to pay, buy aftermarket carbon fiber parts that are really necessary for the betterment of your car's overall performance.
#4. Know the Right Maintenance Procedure
Before you buy carbon fiber aftermarket parts for your Corvette C8, make sure you know about the maintenance procedure to make them last longer.
They can be washed with any regular soap or gentle cleanser. If you wash them, don't forget to dry them with a microfiber cloth so that there are no scratches.
However, waxing those parts with non-acidic wax liquid would be more beneficial, if you do it on a regular basis.
#5. Take an Expert's Help
From the very point of which parts of carbon fiber should be added to your Corvette C8 to the point of installing them, try to have a mentor or expert who can help you in this case.
He may help you choose the right variant, components, and even with the installing procedure so that you don't ruin the whole game.
However, in terms of installing the parts to your car, if you can do it yourself, then it's better for you, you are saving some extra bucks.
But if you feel like you can't do it just by yourself, then seek a professional's help or take it to a technician. Since these parts are really expensive, you won't definitely expect any sort of damage.
Final Words
The carbon fiber material is a blessing to the automotive industry as it ensures durability, efficiency, and stylish looks for your car, being that lightweight.
Sports cars are more prone to accidents due to their high-speed acceleration in racing events. Having carbon fiber parts means there will be less wear and tear with more stability ensured all around.
If you follow these 5 tips on buying carbon fiber parts for your C8 Corvette, chances are high that you will enjoy a great riding experience along with stable performance.