When you look into the market of synthetic oil, you will see that there is a large number of brands claiming to be providing the best oil for your vehicle.
But in reality, only a few companies do supply good quality fully synthetic oils and among them, two brands are most popular- Castrol and Mobil.
Since both of the brands offer you high-quality products, it's a matter of great concern which one you should go with.
That's the reason, we have come up with this comparative article between Castrol Edge vs Mobil 1 to ease your decision-making process.
So, stay tuned!
Why Do You Need Good Quality Motor Oil?
One might think, "Why would I even bother with motor oil brands? Any of them would be fine to go with!"
Well, things don't work that way, engine oil does have some long-term impact on your vehicle's overall health and performance.
In fact, choosing the right full synthetic oil ensures a longer lifespan of your car with quality service.
One of the beneficial aspects of synthetic blends oil is, it doesn't get affected by cold weather.
When winter arrives and everything else gets snowy and freezing cold, your car will still run smoothly due to synthetic oil.
Moreover, in terms of viscosity breakdown, this oil becomes highly resistant and prevents your car from probable harm.
However, when it comes to oxidation, thermal breakdown, and oil sludge problems, full synthetic motor oils is there to save you with enhanced resistance power.
On top of that, in this era of global warming and severe air pollution, this oil produces the least amount of emission, ensuring an environmentally friendly approach.
So, if you want all these benefits together, you must go with good quality oil, and the conventional motor oil could beat the test except the synthetic one.
Castrol Edge Overview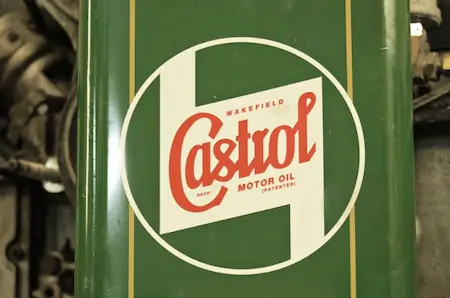 When you consider a budget-friendly oiling option for your car without compromising the quality, then the brand name of Castrol Edge comes initially.
This high-performance full synthetic oil is the first pick for many car owners all around the world due to its affordable price range.
If you compare the quality and performance of Castrol Edge with its other cousin lineup Castrol GTX, then you will surely notice that manufacturers have designed this one to ensure overall enhanced performance.
To ensure better protection against wear and tear, this motor oil helps your engine to be in a good shape continually. Thus, you actually save a lot of extra bucks which could be wasted as your maintenance cost.
To be more specific, one of the key significant differences that make Castrol Edge set apart from Mobil 1 is that it has titanium particles in its elements.
This particular particle usually saves your car engine from wear and tear for a longer period of time and also reduces friction, ensuring deposit control safety.
However, this synthetic oil has been produced keeping in mind most of the American and overall European car models. This means you don't have to worry much about whether it will fit your car's model or not. This synthetic blend motor oil works great for high mileage vehicles.
One drawback that might bother a lot of users of Castrol Edge is that it's not that much available in physical stores, the way it's available online.
But, when you consider a good affordable price along with high performance, this concern would hardly be a matter of concern for you.
Mobil 1 Overview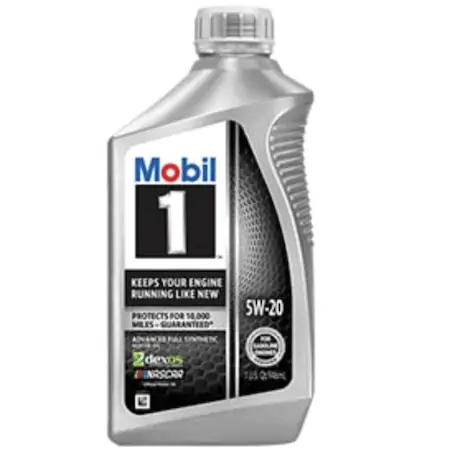 As a motor oils brand, Mobil has a profound history of providing quality products for more than a century.
And, when it comes to Mobil 1, this synthetic oil is a reliable source for motorists around the globe to keep their engines working smooth and fine.
No matter how extreme the weather condition is, Mobil 1 is famous for providing the ultimate performance possible.
Even in cold weather, the engine oil keeps flowing smoothly without any risk of freezing down. So, you won't be bothered to start your vehicle and can run it freely with ease.
Additionally, this full synthetic oil is capable enough to ensure a longer lifespan of your engine with its enriched synthetic formulation by preventing mineral deposits and sludge.
On top of that, this formulation helps to provide highly effective wear protection.
Talking about its brand value, you should know that Mobil 1 already met and exceeded the Dexos standards.
This means manufacturers have designed this product for the best possible performance you can ever expect from motor oil.
However, considering the price, you may think it's a bit overpriced than other similar options, but if you will surely get a value for money service, without a doubt.
If you care about your car's lifespan and overall performance, then Mobil 1 can definitely be your pick anyway.
Castrol Edge vs Mobil 1
It's a very subtle task to choose one from both highly demanding options- Castrol Edge and Mobil 1. No matter which engine oil you select, this is an all-win situation when you have two great options to choose from!
So, here are some considering factors that can make you decide one out of these two options.
#1. Brand
Castrol Edge is one of the most sold products of Castrol Oil Company and the brand has been supplying quality oil since the 19th century. Currently, they are subsidiarily inclined with BP- British Petroleum.
Other than motor oils, Castrol is also known for producing several different products including lubricant oil.
This oil is specially made for the aeronautical space market. However, except for Castrol Edge, they also have two other oil brands named Castrol Ultraclean and GTX.
On the other hand, Mobil has been dominating the petroleum industry for more than a century now. Mobil 1 is their most famous synthetic oil brand.
They used to be a part of Standard Oil at the beginning, but then they dissolved, making a New Jersey standard, which changed later on withholding the as Exxon.
Mobil used to be more dominant in the oil market before and still holds a big amount of share. But with time, they are focusing more on the smaller echelon market.
In fact, they had more reputation and fame in the past compared to the present.
#2. Type
The very first common thing about these two options is that they are both fully synthetic oils.
They have enhanced synthetic formulation, which increases the viscosity index along with so many other benefits.
Due to such formulation, thermal stability and good oxidation are well maintained as well.
On top of that, this type of motor oil ensures you wider compatibility and temperature fluidity.
As both of these brands are coming with premium quality, they initially pass the dexos standards along with other performance parameters.
So, when it comes to types of motor oils, they are quite equal and it's hard to pick one.
#3. Significant Technology
Castrol edge comes with titanium technology which makes it quite popular among users. This technology makes your engine perform to its maximum level even under high pressure.
However, in terms of Mobil 1, there's no special technology that manufacturers talk about other than synthetic formulation.
Meanwhile, Mobil 1 is basically designed to offer excellent performance in extreme conditions, especially at low temperatures.
So, one thing is pretty much considered that if you happen to drive in colder areas more often, or if you usually live in cold prominent countries, Mobil 1 would be a better choice.
#4. Suitable For
Considering the quality of both of the products, it can be said that both are almost ideal for any car or vehicle. But, yes, they work a bit differently in different vehicles and weather conditions.
If you talk about Castrol Edge, you will notice this oil is mostly used in high-tech cars, especially in racing ones.
Due to its titanium technology, this oil suits more to such luxury cars and vehicles, ensuring better strength against breakdown.
On the contrary, talking about Mobil 1, this one would suit most of the modern cars, Trucks, SUVs, along with other top-performing vehicles.
And, the synthetic formulation makes it more suitable for cold environments as well.
#5. Price Difference
Surprisingly, these two full synthetic oils are within motorist's reach, despite being premium quality brands.
Both of them will usually cost you within 30$ per 5-quart container. However, compared to Castrol Edge, Mobil 1 is almost 10$ pricier, but regarding the quality, it is worthy enough to spend upon.
So, in a way, both of the options will be providing you value for money service, but it's up to you what your priority is by the end of the day.
Final Words
In this comparative analysis between Castrol Edge vs Mobil 1, we tried to show you the key significant factors that can have a great impact on your final decision-making process.
Considering all the facts and factors, it is almost clear that both are premium quality products but Castrol Edge is for those who consider price and Mobil 1 is for those who live in cold weather and want a value for money option.