Air compressors are used in so many ways and when looking to choose your own brand of air compressor, you can't ignore Makita from the list of top products. The truth is that Makita air compressors are very popular nowadays – it's enough to check a few Makita air compressor reviews.
You will be able to instantly find out why this brand is so seeking, in the world of air compressors. It is indeed true that each model and brand of air compressor varies from manufacturer to manufacturer, but you should definitely consider the benefits of choosing a Makita air compressor for your own use.
Makita MAC2400 Big Bore Air Compressor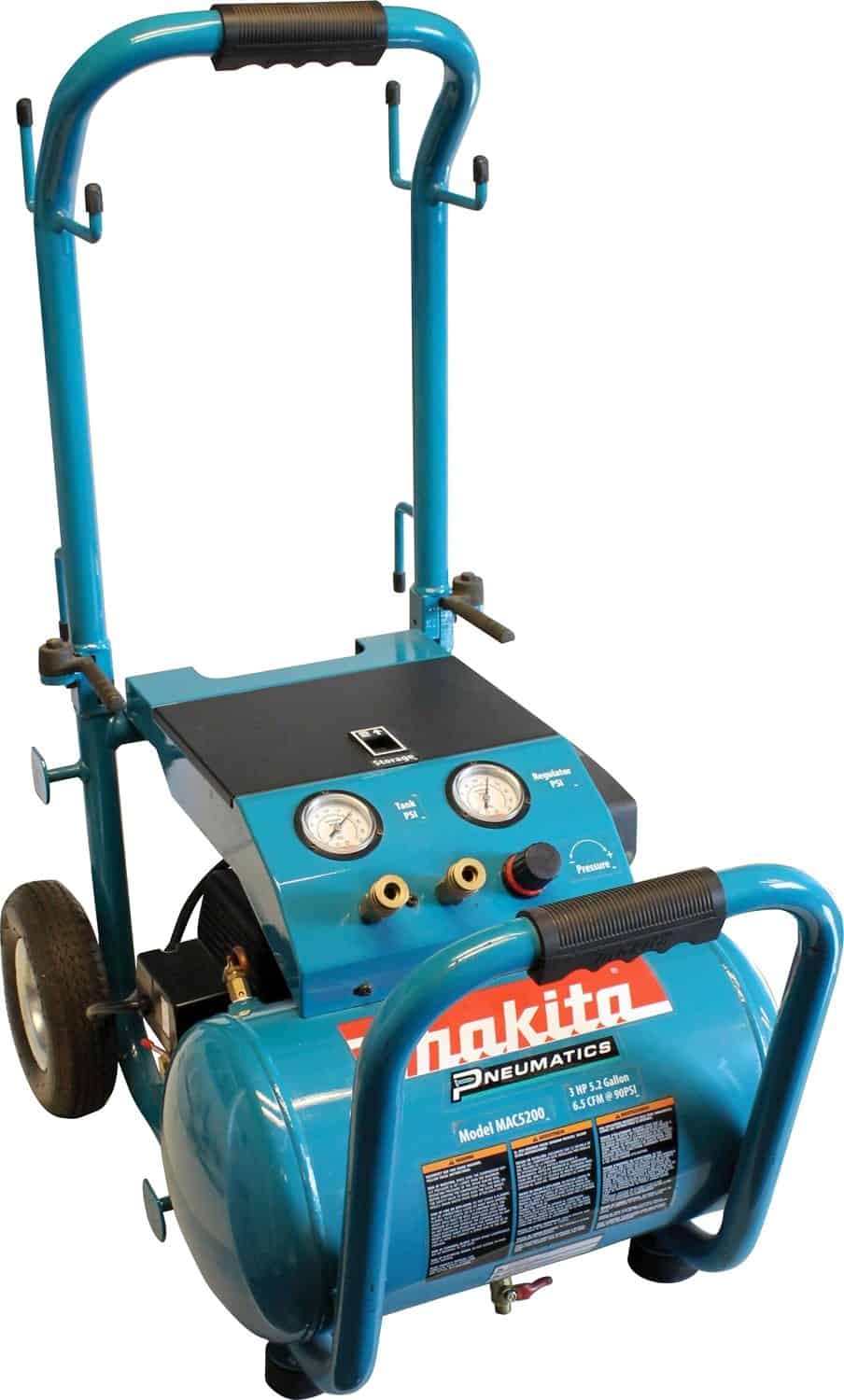 The Makita air compressor Mac2400 is well-known for its high and improved performance, and what users love about it is its fast recovery. Incidences regarding tripped breakers are totally excluded when it comes to this fantastic air compressor model.
Its pump is lubricated with oil; the explanation why it is manufactured like this is simple: while running, the temperatures can remain at cooler values. Choosing this air compressor model will let you make sure that you're totally protected and you have no reasons to be worried or afraid of using this Makita air compressor.
The industrial air filter as well as the large automotive style of the famous Makita air compressor Mac 2400 enables greater efficiency and more air intake at the same time. Its durable cylinder made of iron has the role of increasing as well are wearing the pump life and in maintenance terms, the good news is that it's easy to maintain this product (the cylinder can be removed easily).
Maintenance is not only simply because of the ease of removing its items; in addition, efficient and fast maintenance is enabled by the oil sight glass.
From the Makita air compressor reviews regarding this model (the Mac 2400), it results that its built-in thermal overload gives additional protection to the motor. If you choose to buy this product, you have one year warranty with it.
It is also important to keep in mind that this air compressor performs with minimum noise – a commonly beloved aspect by the majority of users who are looking to buy their own air compressor for home use. The voltage drop and tripped breakers are two causes for early motor failure, but in this situation, this problem is excluded. This model represents another example of the innovative technology that Makita manufacturers practice.
It's not a random thing why Makita air compressor manufacturers are considered to be high-class engineers. When it comes to the Makita MAC2400 Big Bore Air Compressor, but not only this model – none of them will leave the factory before tested for proper functionality.
This means that you have the highest chances to buy the top-quality product that you expect. However, if it still happens that you're not satisfied with your purchase Makita will simply refund you or replace your product with another one.
Most of the Makita MAC2400 Big Bore Air Compressor reviews prove that these machines are created to be error-free – this is something that every loyal client and the future potential customer are dreaming of! This model of Makita air compressor is considered to be the unbeatable one on the present market.
It has a few built-in features that none of the other air compressor brands provide to their customers. In most of the customer reviews, people agree that Makita air compressors perform better and higher than any other air compressor brand out there.
One of the major problems with air compressors is when condensation builds up in the tank – see a few Makita air compressor reviews and convince yourself that you will never experience such things with this brand! The technology involved in the creation of these air compressors stops moisture accumulation but it also keeps heat under control – this is the simplest proof why Makita air compressors are resistant and durable.
Considering these aspects for the MAC2400 Big Bore from Makita, you are highly recommended to try it because there`s nothing you could lose!


Makita MAC700 Big Bore 2.0 HP Air Compressor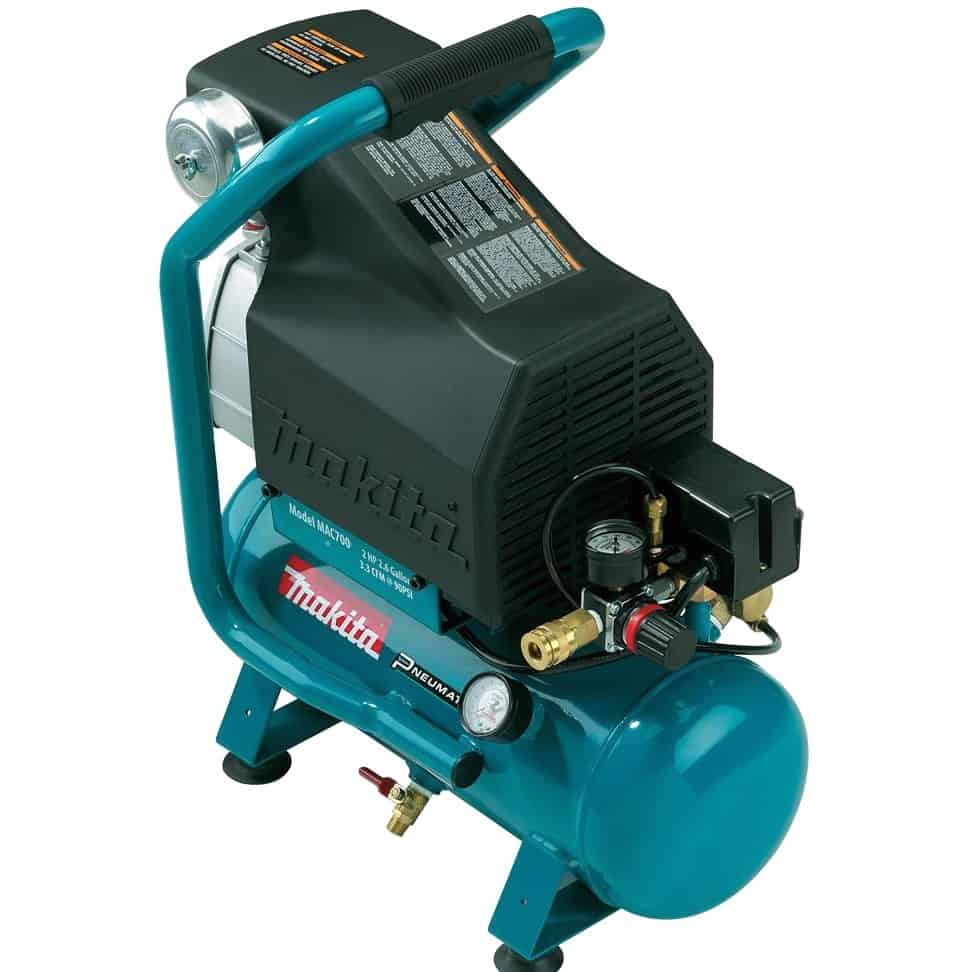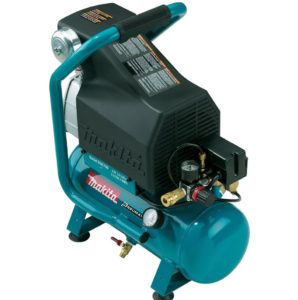 Just like any other air compressor from this brand's manufacturers, the famous Makita MAC700 Big Bore 2.0 HP air compressor is designed to fulfill two main aspects that all of the air compressor owners dream of improved performance, in combination with less noise. The MAC700 is equipped with a powerful 2.0 HP motor and this model is preferred because of its fast capability for recovery.
The pump of this Makita air compressor model is oil-lubricated and most of the previous customers appreciated the fact that it's able to perform at high standards even if predisposed to rough conditions. Its roll bar handle is what provides its protection during harsh job site environments.
There are more reasons why this Makita air compressor model is the ideal one for harsh working conditions. Apart from the mentioned reasons in the previous paragraph, regarding the Makita MAC700 Big Bore 2.0 HP air compressor, it's also important to know that its results are highly satisfying, even under harsh working conditions, thanks to its high performance, less noise, less maintenance, industrial power and other similar fantastic features.
To convince you that you need this Makita air compressor model (or perhaps, another one), we've made for you a short general review of this product, so you don't have to waste time by reading Makita air compressor reviews. Most of the customers started talking about their Makita air compressor experiences after a few weeks of owning their products.
Surprisingly, they all agree that Makita air compressors are built to indeed last for a long time. Another important aspect – customers prefer this brand for its low noise air compressor models, as well as the compact size (these two main features are not necessarily valid for other air compressor brands, coming from other manufacturers out there).


Makita MAC5200 Big Bore 3.0 HP Air Compressor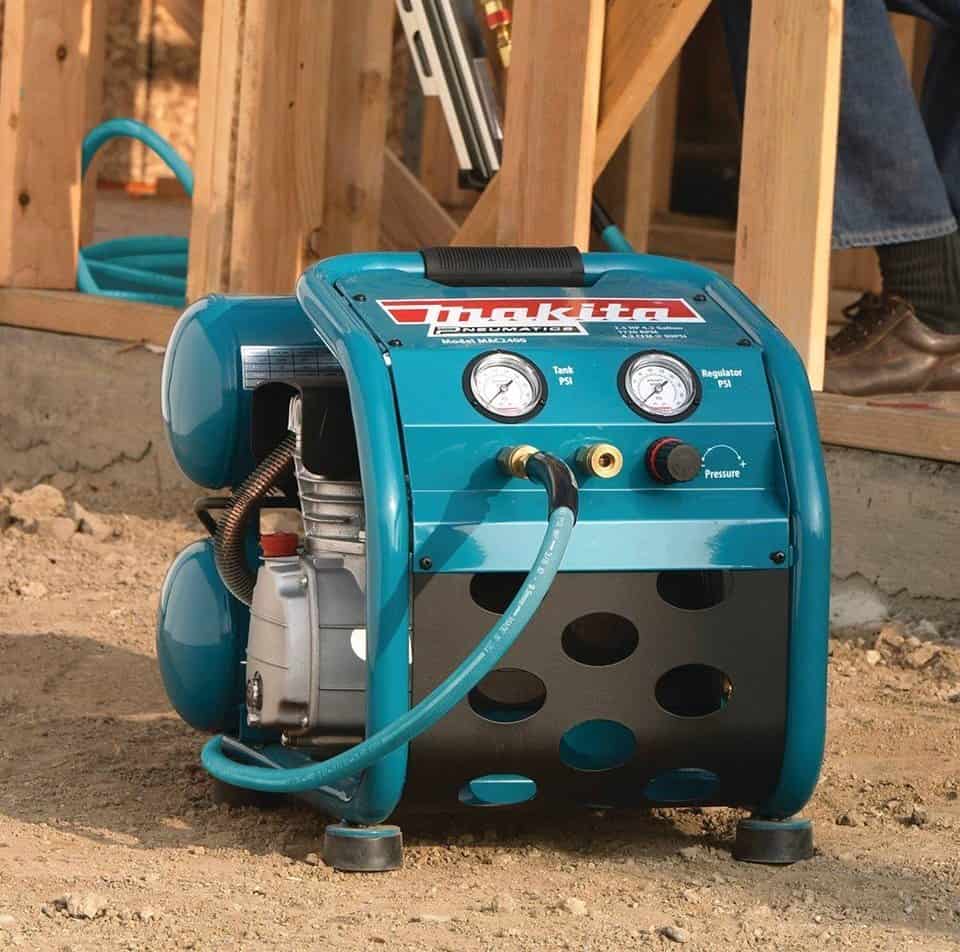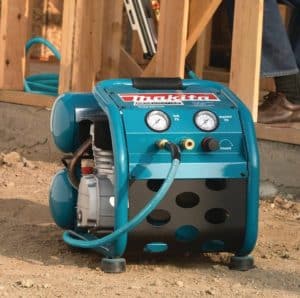 Finally, the third air compressor to consider from this brand is the Makita MAC5200 Big Bore 3.0 HP air compressor. If you have big jobs that need to be completed, this model is a must-have for you. Thanks to the wide range of air tools that this type of Makita air compressor features, you can easily and successfully fulfill all of your personal needs.
This is the only Makita air compressor model that features a professional handle which allows you to comfortably store your product under the workbench or in your truck. It also has a separate compartment built in, where you can keep all of its accessories organized and in one place.
The Makita MAC5200 Big Bore 3.0 HP air compressor features a 3.0 HP, 3420 RPM motor which is handy for long distance traveling. Its wheels let you easily maneuver it and take control over it. In terms of size, the perfect thing about it is that it's easy to carry and it will not occupy all of the space in your truck.
Therefore, you have here a Makita air compressor model which is easy to transport and dominates the work with power. It weighs 88 pounds and it is electrically powered. And of course, like in every other Makita air compressor case, its engine recovers rapidly.
If you will choose to check some of the Makita air compressor reviews, specifically for the MAC5200 model, you will find that most of the customer feedback is positive. One thing customers loved about it is its unbeatable and affordable price.
Nobody believed that could ever purchase such a professional, durable and powerful product at a price they could ever afford paying – until they gave it a try and actually discovered that the quality and price range is more than perfect for all of the Makita air compressor models.


Are these air compressors big? See portable air compressor reviews here.
Final thoughts and conclusions on Makita air compressors 
This article hopefully helped you to become familiar with the three main and best Makita air compressors, available for sale at the moment on the market at affordable and unbeatable prices. Considering the above-described ideas and features for each Makita air compressor model, there are a few final thoughts and conclusions we can't ignore when looking to buy the perfect air compressor for your own use.
Let's not forget to mention that every Makita air compressor model is able to handle a wide variety of tools with professionalism, power, and ease.
None of the machines are noisy and their engine recovers quickly – these are two main features that you definitely want to notice at your own Makita air compressor that you choose to purchase for your personal use. You can comfortably store any of these Makita air compressor products in your garage and in your truck or even under the workbench.
A plus is that each air compressor comes with one year warranty, so if anything unpleasant happens you have the guarantee for getting refunded or getting your machine replaced or repaired.
Because these air compressors are able to suit a wide range of your needs and fulfill them (and if you also convinced yourself that it's actually worth investing in one of these Makita air compressor machines), you've taken the right decision.