If you are an adventurer and an explorer, you must know that snowmobiles are jet skis that run on snow.
But unlike a jet ski, a snowmobile gives the rider an exciting feeling and acts as a functional vehicle that you can drive to reach places that you cannot explore on foot.
So, if you are curious to know more about snowmobiles, you've come to the right place. In this article, you will learn everything about snowmobiles and snowmobiling.
Also, you'll get familiar with the most valuable tips on how to take care of snowmobiles so you can enjoy their company for years to come.
But, first, let's start with answering the question:
What Exactly Is a Snowmobile?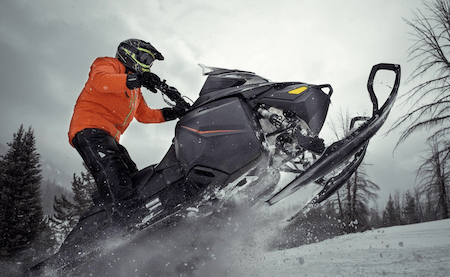 To help you understand more about a snowmobile, let's begin with the basics. In places where winter and snow are part of everyday life, a snowmobile acts as a standard mode of transportation.
A snowmobile, commonly known as ski-doo or a snow machine, is a bike that runs on crawlers and has a ski at the front that helps it run on snow. This vehicle does not need a paved road because the crawlers make their way.
Plus, snowmobiles are great for adventure and exploration. They can take you to snow-clad mountains. They give you a feeling of complete freedom that helps you explore any place you desire.
Moreover, they are easy to ride but make sure that you are riding them reasonably. Anyone who knows how to ride a two-wheeler can use their skill in riding the snowmobile.
This brings us to the next section of our article:
The History of Snowmobiles
Snowmobiles first came into existence in 1936, manufactured by a Canadian company. They were known by the name "snow flyers" and copied from models earlier known as the Fort-T.
These snow flyers can carry up to seven passengers and were famous for taking travelers from one village to another.
Since then, everything about snowmobiles has changed, especially after 1960. The snowmobiles of today carry only two people, and many automobile companies are manufacturing them.
Moreover, they aren't only used by small Scandinavian or Canadian communities.
Things You Should Know Before Going on a Snowmobile Excursion
First things first, you need to have an updated driving license with a medical report that shows you are free from all types of back problems, vision problems, or any other health problem that can negatively affect your driving.
Additionally, riding a snowmobile can be physically challenging for two reasons. First, snowmobiles are potent and heavy engines, and because of the uneven terrain, you'll have to drive them standing many times.
For this reason, you need to be in good physical health. Second, you can never predict the climatic behavior in the places where you'll be riding a ski-doo.
Therefore, weather conditions can also affect you and create some challenges for you if you are not mentally and physically prepared.
However, driving ski-doo is easy because it's a powerful machine and can take you anywhere your heart desires.
Another essential point that you always need to take into consideration is the working condition of your snowmobile.
Even though these machines are specifically designed to run in extreme climates and conditions, they do need regular maintenance.
And because of their sturdy build, owners tend to ignore this crucial aspect most of the time.
That said, before you go on an excursion, make sure your Snowmobile gaskets are in excellent and working condition.
Since it is one of the most vulnerable parts of a ski-doo, that can create problems for you when you are on the run.
Finally, when you are ready for your adventure, wear clothes that can keep you warm in minus 20-30 degrees of temperature(plus a layer resistant to heat, water, and snow).
And most importantly, don't forget to wear a helmet and good quality gloves to keep your hands warm even in the most intense weather conditions.
Bonus Tip: If you are unsure of the working condition of your ski-doo, contact a professional and ask what changes need to be made.
How to Drive a Ski-Doo?
Snowmobiles are now used for adventure sports and to entertain people, and they are much more powerful than a motorcycle.
The engines they run on are cylindered anywhere between 500 to 1000 cm3. And as mentioned before, it can only carry a driver and a passenger.
And due to their powerful engines, they can take you over snow-clad hills and mountains effortlessly.
Since they have powerful engines, a ski-doo can quickly achieve speeds up to 60 km per hour, which is more than enough for an adrenaline-rushed expedition in the snow.
Plus, driving a snowmobile is even easier than riding a motorcycle as you don't have to worry about changing gears. It only has a start button, throttle, and brake.
However, always make sure you are wearing your complete riding gear such as a helmet, jackets that protect you from extreme cold weather conditions, and high-quality gloves.
If you are going to ride these machines for the first time, take some advice and training from your instructor. Their advice and expertise can help you in a time of emergency.
This brings us to the section of this article you all have been waiting for:
The Best Places to Ride Ski-Doos
Now, when you know everything about ski-doos, it's time to discuss the places you can visit to have the best experience on your snowmobiles.
To have an experience of your lifetime, follow this simple formula, select a place with beautiful sceneries with plenty of snow—for example, Canada or Greenland.
But if you want to push the envelope even further, you can go to places like La Plagne in the French Alps, Tromsø in Norway, and Reykjavik in Iceland.
In the last recommendation, you can also bask in the glory of the Aurora Borealis while riding.
Wrapping Up!
If you have a thirst for adventure, snowmobiling can help you quench your thirst. These are some of the most powerful vehicles in that world that you could ride in extreme cold weather conditions.
Consequently, making them a perfect fit for your yearning for adventure.