You know that moment when you sit in the car and somehow feel like it can be cleaner? You start removing things, cleaning, and organizing. You look at it all after a few hours and say "Ahhh, that's more like it". But then you see some crumbs on the carpet and you don't have a vacuum cleaner. We've all been there and we know the pain, but fortunately for you, we decided to browse around and gathered this list of best vacuum for car detailing.
| Rankings | Product Name | Power | Filter Type | Editor's Rating |
| --- | --- | --- | --- | --- |
| #1 | | 120W | HEPA | ★★ ★★★ |
| #2 | | 75W | HEPA | ★★ ★★★ |
| #3 | | 106W | Modified HEPA | ★★ ★★★ |
| #4 | | 75W | HEPA | ★★ ★★★ |
| #5 | | 15.2W | Washable Filter | ★★ ★☆☆ |
Our Pick (Top 1): Fortem 120w Portable Vacuum Cleaner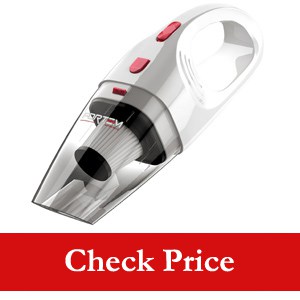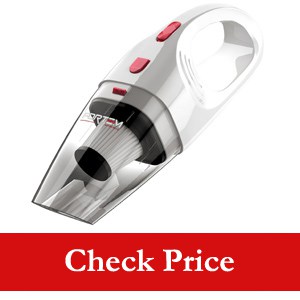 Starting our travel through the list is this FORTEM portable cleaner. It's powered by a 120W electric motor, which is powered by 12V DC drawn from the cigarette lighter using the included 15ft cord.
Most of the budget cleaners are powered using the cigarette lighter, so make sure it works before you decide that the cleaner is faulty, as it's probably not.
The makers of this cleaner thought about the various situations that their unit may see, so they made sure to include a nozzle for every task. There is one for the crevices, one brush, and the standard nozzle, just extended using some an extension pipe.
The package also includes a carry bag, so you can pack everything up in one place and keep it organized. This works excellent for cleaning the interior.
Another good thing about the FORTEM is that it comes with not one, but two Hepa filters. They're durable and easy to clean but it's always good to have a spare at hand. Especially since it's intended for both wet and dry use, so you can dedicate one filter to the dry usage and the other for the liquids. However, you can consider as the best car vacuum cleaner.
PROS
Carrying bag with accessories
Sturdy and robust design
Price
Two HEPA filters
Powerful(120W)
Good for both dry and wet usage
Aluminum alloy fan blades
International safety certifications (FC, CE, RoHS)
CONS
Low sucking power with attachments
Not that much that you can expect, given the price
Top 2: Lolldeal Super Mini Portable Cleaner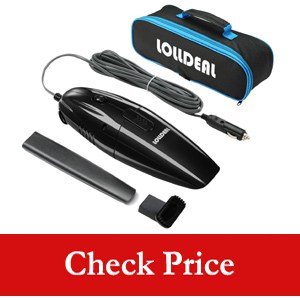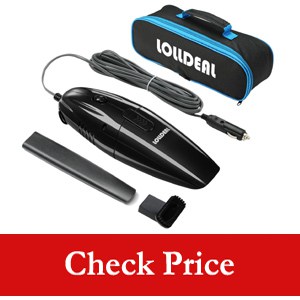 The first thing you notice about the LOLLDEAL  is it looks. It just looks so clean and elegant, and with that black color, you'd never say it costs $19.99. It just looks more expensive than that, but we still have to see if it's just the looks or is there more to it.
For starters, there's a travel bag to hold the unit, the brush, the pipe and instruction manual that comes with it. The motor is not as strong as one might wish, rated at 75W.
The power is sourced using a 14.8ft cord that is plugged into your car's cigarette lighter.  Another aspect is that it's small and practical, which means that it can fit everywhere.
Lolldeal used a very high-quality HEPA filter, that is very easily cleaned and can filter dust, soot, and particles very well. It's not restrictive, so it helps the not so powerful motor provide a constant sucking force.
One more good point is that the went with aluminum fan blades and a copper wound motor, so it'll definitely last you a while.
PROS
High-quality HEPA filter that is easily cleaned
Carrying bag
Sleek and elegant design
Price
Small size
International safety certifications (FC, CE, RoHS)
CONS
Can't be used for liquids
Low power(75W)
There is no handle to hold it
Low sucking power with pipe attached
Car has to be on for it to run
Top 3: OnShowy 106w Portable Cleaner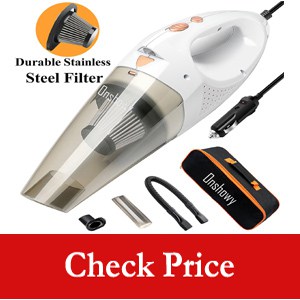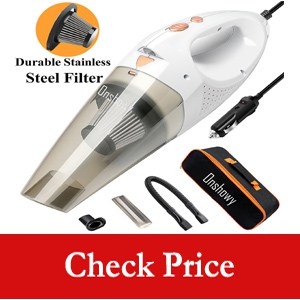 Even though all of the cleaners look like, each one has its own differences and attractive points. For the Onshowy cleaner, a definite advantage over the others is its stainless steel particle filter.
The manufacturer claims that one of their filters is equal to 200 HEPA filters. Pretty impressive, wouldn't you say?
The other thing that is special on the Onshowy vacuum cleaner is the LED light, that's integrated on the front. It's handy for those dark corners and dark carpets. It's also rather handy in case of a night emergency.
OnShowy's 106W electric motor draws power from the cars 12V cigarette lighter, using a 14.75ft cord. With the filter being very unrestrictive to the air flow, the motor can provide a vacuum of about 4.5Kpa, which is very powerful. Another bonus of the stainless filter is that the cleaner can be used for both solids and liquids without a problem.
In the package, you get one travel bag, which is handy for storage, because it keeps all your accessories and the cleaner itself in one place. You also get a long mouth brush, a soft long tube, and a brush mouth.
Along with all of this, you also get a manual, so you don't have to think about the usage and cleaning of the vacuum cleaner.
PROS
Multiple accessories including a travel bag
Stainless steel filter
Filter lasts a long time
Integrated LED light
Can vacuum solids and liquids
Internationally certified(CE, RoHS)
CONS
Suggested running car for more suction power
Could be more powerful(106W)
Low sucking power in cracks and crevices
Poor storage of vacuumed particles, they can fall out again
Top 4: Reteck Portable Car Vacuum Cleaner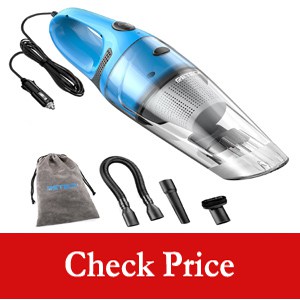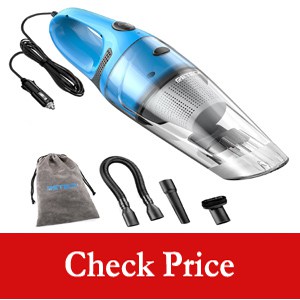 At 4th place, we have the RETECK portable vacuum cleaner. It stands out from the others with its attractive blue color, even though it's physically similar to the others. Well, except the sleek LOLLDEAL.
If you don't like the blue one, you can choose from a total of four color combinations.
Like the others, it's also powered by 12V DC which can be sourced from your cigarette lighter using a 14ft cord. When you connect to the lighter plug, you power up the 75W electric motor, which a little bit weak. Never the less, the guys at RETECK made sure to attract you to their product with a couple of neat features and.
First up, there is a reusable HEPA filter, which can be used for both liquid and solids, just make sure that it's dry before you vacuum liquids so you don't lose suction power. The filter is easy cleaning, just wash it in water and dry.
No need to buy expensive filters ever again. The HEPA filter also includes a nano filter on the tip of the cleaner which helps you avoid secondary pollution.
Then there are the accessories. When you buy the RETECK vacuum cleaner, you get a couple of additions. The brush which is used for cleaning carpets, cushions or those hard to clean AC vents. An extension hose so you can get around corners. You can also attach the other accessories to it. And lastly, the crevice, which is used for cleaning out gaps.
PROS
Multiple accessories
Reusable HEPA filter
Environmentally friendly and ecological
Easy cleaning
Can vacuum solids and liquids
International safety certifications (FC, CE, RoHS)
CONS
Wet filter can reduce sucking power
Low power(75W)
Overheating after long periods of usage
Low sucking power with hose attached
Top 5: Black Decker CHV1410L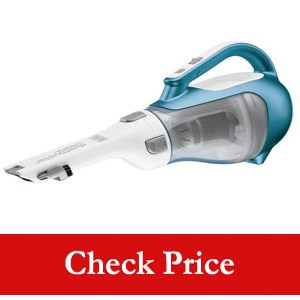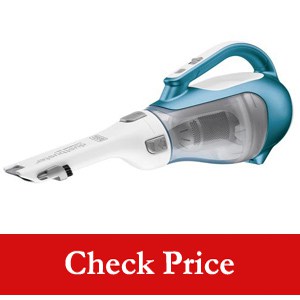 The final cleaner on our list is this portable cleaner made by BLACK+DECKER. If the name sounds familiar, it's no wonder. It's the same BLACK+DECKER that makes those high-quality tools, appliances, and other equipment.
They just changed their colors a little. As for the CHV1410L in question, it' different from the others in a couple of ways.
First of, unlike the others, it's powered by 16V DC instead of the usual 12. Then there's how it gets the power. There's no cord and no need for a cigarette lighter. Yes, you guessed it, it's powered by an onboard Lithium Polymer (LiPo) battery.
The advantage of using LiPo, apart from their lightweight, is that they don't lose their properties with battery drain. That means that you'll be able to vacuum around with the same sucking power, be it a full charge or near charging time. It just doesn't matter.
Next, there is the price. We admit, it's a bit on the pricier side, which is the most expensive from our list,  but we can say it's worth it. For that price, you get a lightweight cleaner, that you can use all around your car. Being battery powered, you can carry it everywhere.
You can vacuum in your house no problem. It's not limited to cars like the others are. Then there is the way it sucks. Using an innovative cyclonic sucking method, it keeps the debris away from the filter, which in turn gives you constant sucking power.
PROS
LiPo battery for long battery life
Automatic shut-off when on charger and battery is full
No fade in sucking power
Cyclonic sucking method for reduced loss in suction
Easy cleaning
2 years warranty
CONS
Price
Limited warranty
Only one adapter(brush)
You don't get replacement bags or filters
Verdict
Well, here you have it. We went through our list of best vacuum for car detailing, taking in consideration a few different aspects. Hopefully we've helped you with your struggle, but honestly, you won't make a mistake with whichever vacuum you get.