There is no car that doesn't need any work in the undercarriage. However, working under the car is quite challenging if we don't have the best car ramps. A ramp is helpful to give you enough space under the vehicle to work comfortably.
However, there are many low-quality products on the market that will just waste your money. We have picked here only the top 7 products.
Here is Our List of the Best Car Ramps
| Product Name | Capcity | Maximum Height | Angle | Editor's Rating | Price |
| --- | --- | --- | --- | --- | --- |
| Race Ramps RR-40 | 3000lbs | 7" | 16.7° | ★★★★★ | Check Price |
| Race Ramps RR-XT-2 | 3000lbs | 10" | 10.8° | ★★★★★ | Check Price |
| RhinoGear 11909ABMI | 12000lbs | 7" | 17° | ★★★★★ | Check Price |
| Scepter 08226 | 12000lbs | 7" | 17° | ★★★★☆ | Check Price |
| RhinoGear 11912ABMI | 16000lbs | 7" | 17° | ★★★★☆ | Check Price |
| Rage Powersports ML-1066 | 3000lbs | 7" | 11.5° | ★★★☆☆ | Check Price |
| Magnum 1002-1 | 16000lbs | 7" | 17° | ★★★☆☆ | Check Price |
Top 1 (Our Pick): Race Ramps RR-40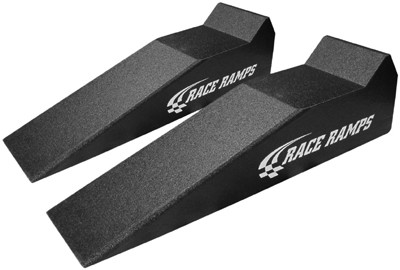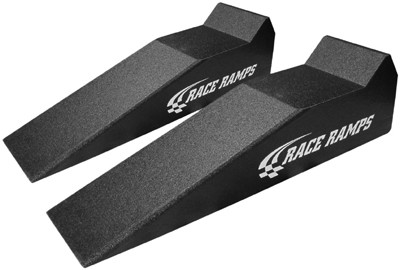 Race Ramps is one of the most popular brands in the market. This is a lightweight product which is really great for cars with low ground clearance.
If you own a BMW, Honda, Toyota, Ford, Jaguar, old Corvettes, or even Miatas, you should definitely buy this one. However, this product is also suitable for any kind of cars.
Just make sure your vehicle's tire size is not more than 8". A single ramp can take a load of 1500 pounds which is good enough for any kind of small or medium vehicles.
Tips: As you are looking for car ramps, not for SUVs/Trucks, this one is perfect.
Pros
3000 Pounds Capacity.
Maximum Height 7".
Lightweight (5 Pounds).
Ideal for Low Ground Clearance Cars.
Anti-slip Core.
Maximum Tire Size 8".
Cons
Not for Large Vehicles.
Not Foldable.
Large Storing Space.
Top 2: Race Ramps RR-XT-2 67 Inch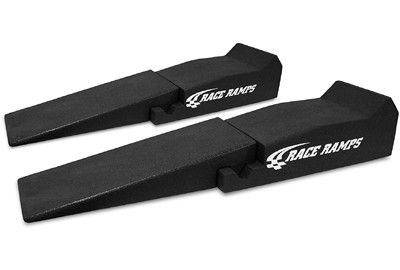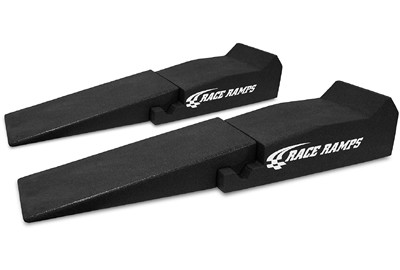 Here is another excellent product by Race Ramps. This product is made of extra light but durable material which enables this to give support up to 3000 pounds per set. It comes with a 67" extender which is great for low-profile cars to get some extra space to go up slowly.
However, the extension can be removed which will help you to store the ramp in a small space. There is also a choke to ensure the safety.
It has a solid core which helps the ramp to hold onto the place. It has protective material which doesn't make any scratch on the ground.
It is suitable for most of the small-medium sized cars, but, not for large vehicles.
Pros
67" Extension.
3000 Pounds Weight Capacity.
Maximum Height is 10".
Small Space Required for Storage.
Doesn't Scratch Floors.
Useable on Low-Profile Cars.
Cons
High Price.
Not for SUVs/Trucks.
Top 3: RhinoGear 11909ABMI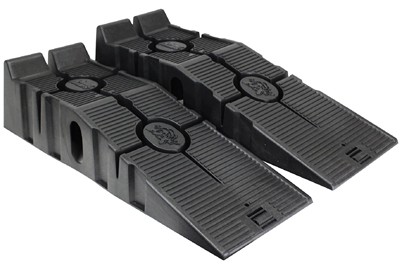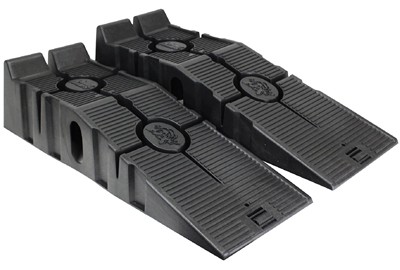 This ramp is a portable car ramp that can take a total 12000 pounds (6000 pounds on each ramp). It has an anti-slip base that can be used in any weather.
It has 17-degree incline climbing system that allows low profile vehicles use the ramp without any problem. Moreover, it allows 9" tires in width.
RhinoGear 11909ABMI is perfect for small/sports cars, family sedans, SUVs and even Trucks. It is a heavy duty product so no issue with weight.
However, the product weight is a bit higher. It combined weight of two ramps is 19.1 pounds. But, it is storable in half size of the ramps.
Pros
Portable & Requires Less Space to Store.
12000 Pounds Capacity.
Maximum Tire Width 9".
17 Degree Incline.
Suitable for Cars, SUVs, & Trucks.
Maximum 7" Height.
Non-Slip Base.
Cons
Top 4: Scepter 08226 Plastic Ramp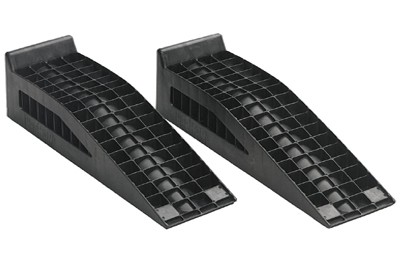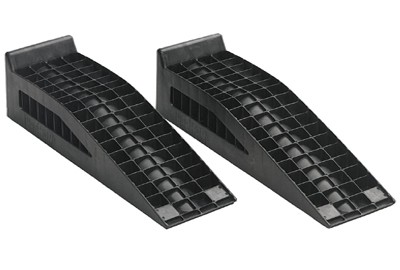 Scepter 08226 is 35" long and 9.8" wide that is perfect for any small to medium size cars. The ramp is designed with a capacity of up to 12000 pounds.
There is a core parabolic arch through the center of the ramp which gives the base support and it also distributes the weight. Its excellent grid design allows the water and dirt to fall from the ramp.
The grids also help to prevent wheel slip. Its smooth angle helps the low profile cars to go up without any trouble.
Pros
Lightweight as Made of Plastic.
12000 Pounds Weight Capacity.
35" Long (Excellent for Low-Profile Cars).
8" Wide.
Slip Protection.
Useable in Any Weather.
Cons
Larger Storing Space.
Can Scratch the Underside of Cars.
Top 5: RhinoGear 11912ABMI Max Vehicle Ramp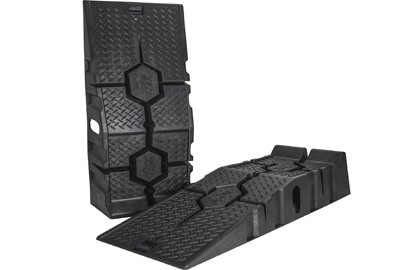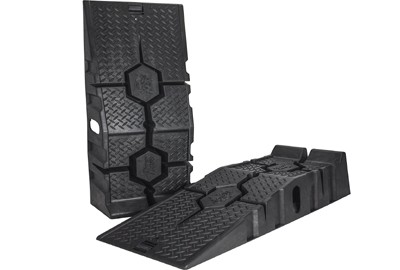 This is another great product by RhinoGear. It has a portable structure which requires very small space for storage. Its maximum weight capacity is 16000 pounds.
It also has a 17-degree incline ramp which is essential for low-profile cars. Its CoreTRAC system helps to hold the ground strongly and prevent slipping. However, the weight is a bit higher, about 21 pounds.
Pros
Strong Structure with 16000 Pounds Capacity.
17 Degree Climb.
Portable Ramp.
Doesn't Scratch the Floor.
Maximum Height 7".
Low Price.
Has Standard Safety
Cons
Heavy Product (21 Pounds).
Top 6: Rage Powersports ML-1066 Sports Car Service Ramp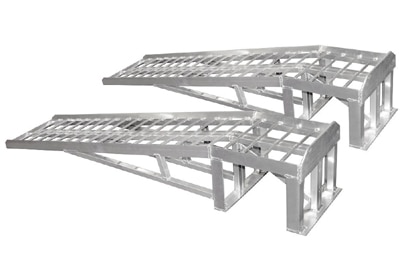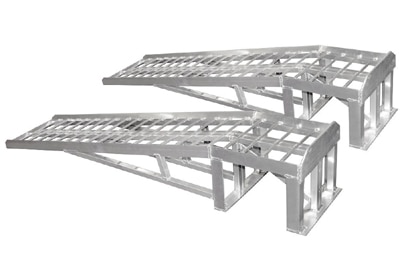 In the name, you can see it is specially meant for sports cars. It has slim 11.5-degree angle design on a 66" ramp which is what a sports car needs to climb.
It can lift the car up to 7". You can use it for any vehicle with tire width up to 16". There is also safety rail on both of the ramps. It also has a wheel stop.
However, the pair of ramps can take a weight of 3000 pounds. It is only for sports and low-profile cars. Not suitable for SUVs or Trucks.
Pros
66" Ramp with Steel Structure.
5 Degree Angle.
Maximum Height 7".
Maximum Tire Width 16".
All Standard Safety Features.
Cons
Maximum Capacity 3000 Pounds.
Can Scratch Floors & Under the Car.
High Price.
Top 7: Magnum 1002-1 Ramp System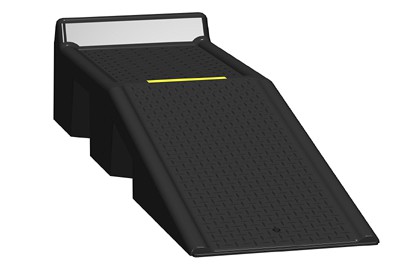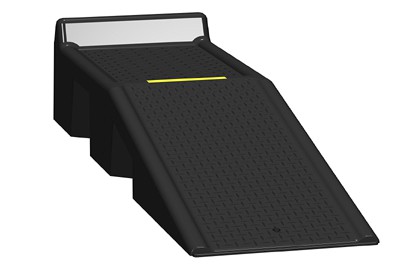 In our list, Magnum 1002-1 is in the 7th position as it is simple and doesn't offer too many features. But, the product is excellent with the overall condition.
Its weight capacity is 16000 pounds and that is above average. It comes with 4 piece detachable units which are simple to join together and you can separate them to store in a small space.
There is safety chock as well. The product weight is 17 pounds which is a bit heavy.
Pros
16000 Pounds Weight Capacity.
Small Store Space Required.
Safety Chock.
Environment-Friendly.
Cons
Not Recommended for Low-Profile Cars.
May Scratch Floor.
Caution: You Must Use Wheel Chock for Safety Purpose with Any Ramp!
Conclusion
A pair of car ramp will help you to make your work under the car a lot easier. For monthly oil changing, radiator draining, etc. you don't need to go to any garage. You can do all these at home if you buy the best car ramps and use them for yourself.