The washer fluid is one of the most commonly used tools for cars and trucks. Water can work pretty well in cleaning the windshield but when the weather changes the efficiency of water drops below the acceptable level. In cold or hot weather the importance of the best windshield washer fluid increases.
You don't want to crash because of a hazy windshield, right?
To ensure safe driving during bad weather, this fluid is used by most of the experienced drivers.
At a Glance: Our Choices for the Best Windshield Washer Fluid
We here bring to you one of the most overlooked fluids for our vehicles that not only ensure our smooth driving experience but also are reasonably priced. The windshield washer fluid is the one that satisfies the needs of its customers in terms of usability and price.
| Rankings | Model | Special Feature | Editor's Rating |
| --- | --- | --- | --- |
| #1 | | Superior Visibility | ★★★★★ |
| #2 | | Economical Solution | ★★★★★ |
| #3 | | Glare Free Cleaning | ★★★★★ |
| #4 | | Anti-Freeze | ★★★★★ |
| #5 | | Excellent Bug Wash | ★★★★★ |
| #6 | | Shampoo Features | ★★★★☆ |
| #7 | | Cold Weather Performance | ★★★★☆ |
To keep your windshield clean, you must have a good pair wiper blades, check here.
Top 7 Windshield Washer Fluid
Rain-X RX11806D Washer Fluid Additive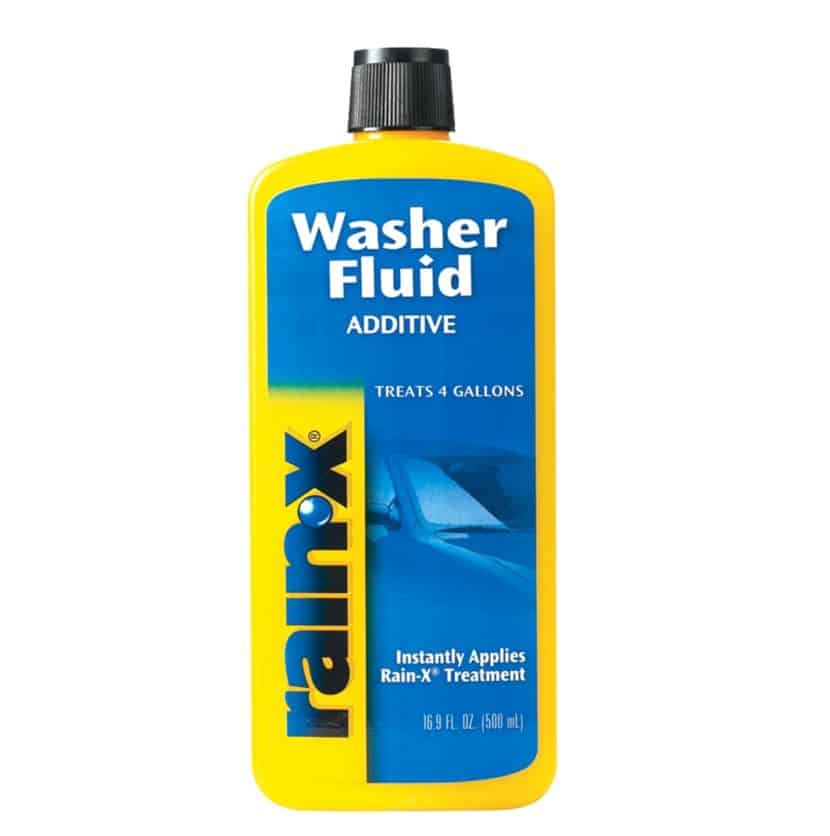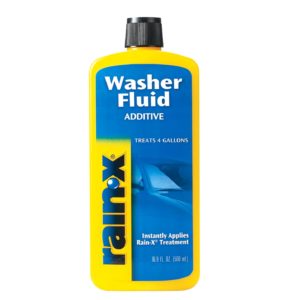 This is a washer fluid additive. You add it to the existing washer fluid or water; you can gently mix it into the fluid. It works as a cleaning agent into the fluid and introduces the water beading outcome over a period of time. It is effective for removal of sleet, snow, ice, bugs and road spray.
This product is one of the greatest additives by the company Rain-X. The water beading technology further improves the visibility of your windshields on continuous usage of the product. It makes the water bead up and slides through the window panes while driving.
It is a transparent liquid that doesn't leave any stains on the window panes.
The long-lasting effect of the washer fluid additive leaves the window shields and water nozzles cleaner and dirt free as it is effective in the removal of clogging.
The liquid can be stored easily in moderate temperature settings, though should not be frozen.
The fluid comes in a yellow color bottle with a size of 16.9 fl oz enabling you to produce 4 gallons of washer fluid. The liquid can also be mixed with plain water.
The application of Rain-X RX11806D Washer Fluid Additive is easy but the mixing should be carefully done. The product forms a layer of film on the window pane that allows a wax type formation. When the water droplets fall due to fog or rain, this film beats the water and does not allow it to deposit on the windshield. A similar effect is on the dirt and road spray.
How to use:
Add 4 fl oz to 1 full gallon of washer fluid or plain water. One bottle can make 4 full gallons of washer fluid.
Things we like:
Fairly priced
Mixes well with any washer fluid
Works effectively with water too
Water beading technology
Stains and bugs removal
Stops formation of clogs
Better to use than hand applicator
Easy storage
Things we do not like:
Should not be allowed to freeze


Instant Windshield Washer, 25 Tablet

The 303 230371 Windshield Washer Tablets are effective in removal of bugs, stains and forming clear films. This is one of the finest washer fluids that can be prepared easily by adding into washer liquid or cleaner. It gives a clear view through the windshields to the driver by getting rid of unwanted deposition of bugs, road film, dirt and grime on the window panes.
These tablets promise 3 time better cleaning power than other washing agents. It has been rated as one of the best windshield washer fluid for bugs. The packing of tablets is effective for its safe storage. They can last longer depending upon the usage of customers.
One tablet is required for making 1 gallon of good quality cleaner. The resulting fluid becomes blue in color. People can also use soft water for reducing the overall cost but hard water can cause clogging of lines and nozzles.
Thus it is better to use a good quality cleaner to maintain the effectiveness of the product. The usage of the product is simple and hassle-free.
It is bio-degradable product – the most economical choice for the users.
The product comes in a small packing with 25 tablets in each packing. The price is a much economical as compared to the other washer concentric solutions.
The 303 230371 Windshield Washer Tablets are easy to store and can be kept for years.
The product is suited for people who travel a lot and cannot always carry some washer fluid or liquid along with themselves. Easy to carry and store, it is non-toxic.
The user needs to add antifreeze in the tank as the fluid gets easily frozen under low temperatures.
How to use:
Mix 1 tablet in 1 gallon of top-quality cleaner and the liquid is ready to use.
Things we like:
Easy to make preparation
Simple and clean storage
3 times effective power
Each tablet is biodegradable, environmentally friendly
Economical pricing
Things we do not like:
It is not a washing fluid, leaves remnant
Antifreeze is required


N

extzett Kristall Klar Washer Fluid Concentrate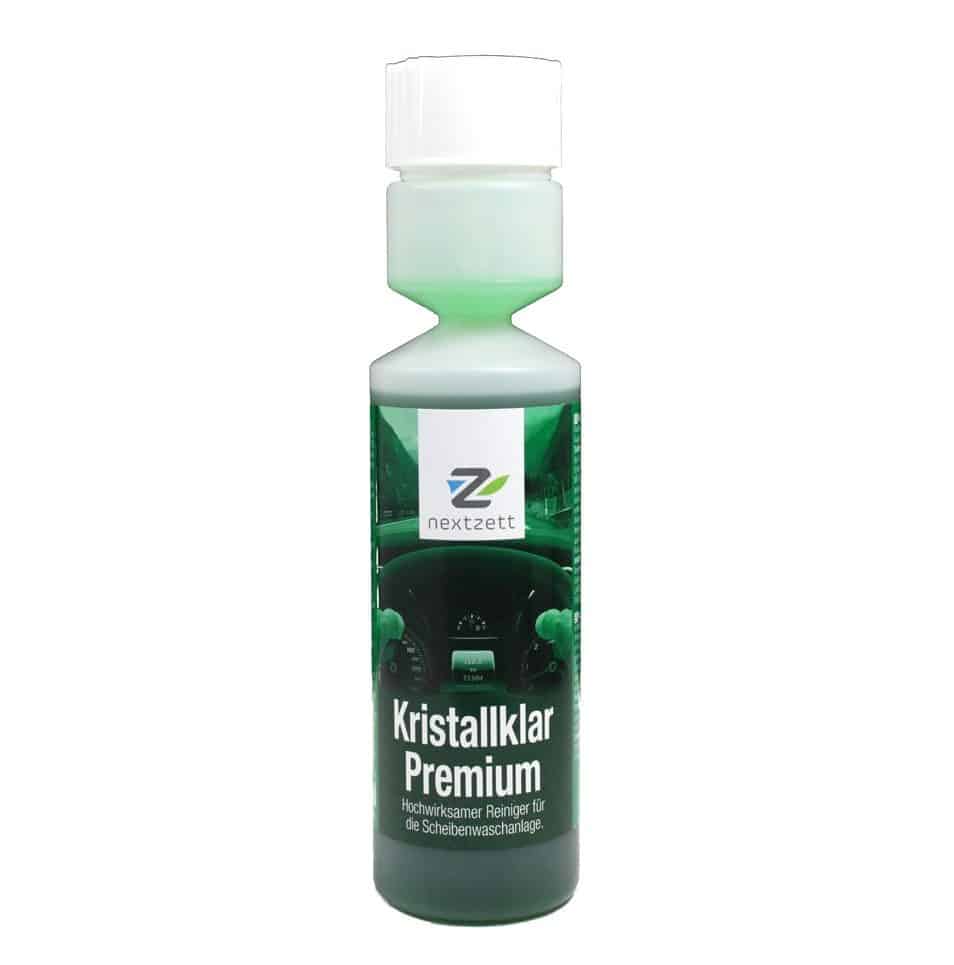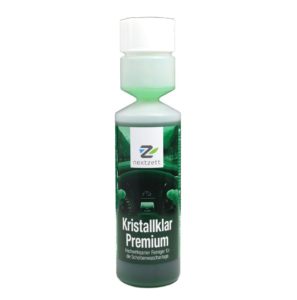 Nexzett Krystall Klar is developed specifically for European automotive manufacturers. It is a hundred times more concentrated than a usual washer fluid.
This is an ammonia-free formula that is significantly effective in the removal of oil, grease, wax, bugs, grime, silicone, dirt and protects windshields at a front and rear end as well as the headlights of the vehicle.
Each bottle can be used to make 7 full gallons of highly effective washer fluid. It mixes up completely into the water and doesn't leave any residue behind, making it one of the most popular product.
The efficacy of the product is highly rated as it can be used with normal tap water (contains softening effect on water and prevents mineral build up, so hard water must not be a problem).
It is a biodegradable and ammonia free product that doesn't cause any harm or smearing to the window panes or paintwork or even the plastic portion of the headlights.
It has a fresh, citrus fragrance that gives a good user experience.
How to use:
1 bottle of Nexzett Krystall Klar can make 7 full gallons of washer fluid. One can accordingly measure and squeeze the quantity for 1 gallon of water to be mixed in the washer tank.
Things we like:
High performance
Pleasant and freshening odor
Fair pricing
Works effectively with water as well as any washer fluid
Things we don't like:
Some people find it too much soapy


Cyclo C207 Concentrated Windshield Washer Solvent with Antifreeze – Case of 12


Cyclo C207 Washer Solvent is a blue color liquid available with 100 Percent concentrated formula (many competitive products on the market are 40 percent water). The high concentration of the product definitely required to be kept strictly in safer storage and away from the reach of children.
It comes in a small sized bottle in 16oz size.
It is an all seasoned product and can be used as an antifreeze in winters and a cleaner in summers. The customer does not need to look around for season-specific solution.
The product beats the competitive products in performance and price comparisons and has been termed as one of the best windshield wiper washer fluid. While it is a completely concentrated fluid, it needs to be prepared as per customized requirement of the users.
In winters 1 bottle plus 48 ounces of water will protect to 0F and 1 bottle plus 32 ounces of water will protect to -12F.
However, the bottle can be easily carried for long journey travels as it requires minimal space and is quite handy.
How to use:
Custom blend solvent, to be prepared as per the usage of customer
Things we like:
All season washer solvent
Works as anti-freeze in winters and a cleaner in summers
Easy to carry bottle size
Things we do not like:
Highly concentrated, need to be safeguarded dearly from children or misuse


Prestone AS259 All Season Windshield Washer Fluid – 1 Gallon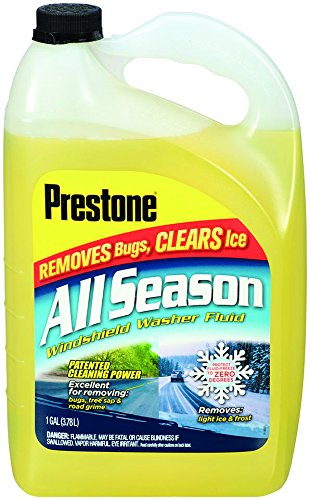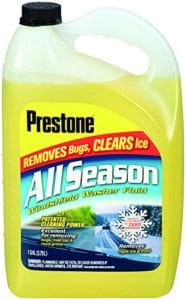 Prestone Washer Fluid is a yellow color liquid that comes in 1 gallon sized transparent bottle. It combines its "prestone big wash" technology with de-icer for winter frost. Its advanced technology gives a strong cleaning against bugs, tree sap, and road grime in the spring and summer. The effectivity of the product increases as it can be easily stored for use throughout any season.
It gives a clear sheen to the windshields and a streak-free impact for better driving aids.
The most amazing feature of the product is that it doesn't freeze in winters or lower temperatures.
It is an effective formula for removal of bugs, dirt, snow or mud from your window panes.
It is one washer fluid that can work all year long in all the seasons and highly effective in improving the visibility of the windshields from dirt and snow both. Its efficient formulation can melt frost and light ice during fall and winter that makes it the good for snow.
The Prestone Washer Fluid does not need any preparation, it's a ready to go product. It can directly be added to the washer tank for getting an unobstructed vision.
It can be considered higher on the pricing side as it does not require any dilution and is available in a bottle of 1-gallon size, but the performance of the product can be equated with the price.
The satisfied users will not need to find a separate product for winters and springs as it is efficient for all year long.
How to use:
Ready to use, no preparation required.
Things we like:
One stop solution for washer fluids all year long
Can be stored in all temperatures
No dilution required can be used directly
Works effectively on removal of dirt as well as melting down of ice/snow
Things we do not like:


Chemical Guys CWS 101 Maxi-Suds II Super Suds Car Wash Soap and Shampoo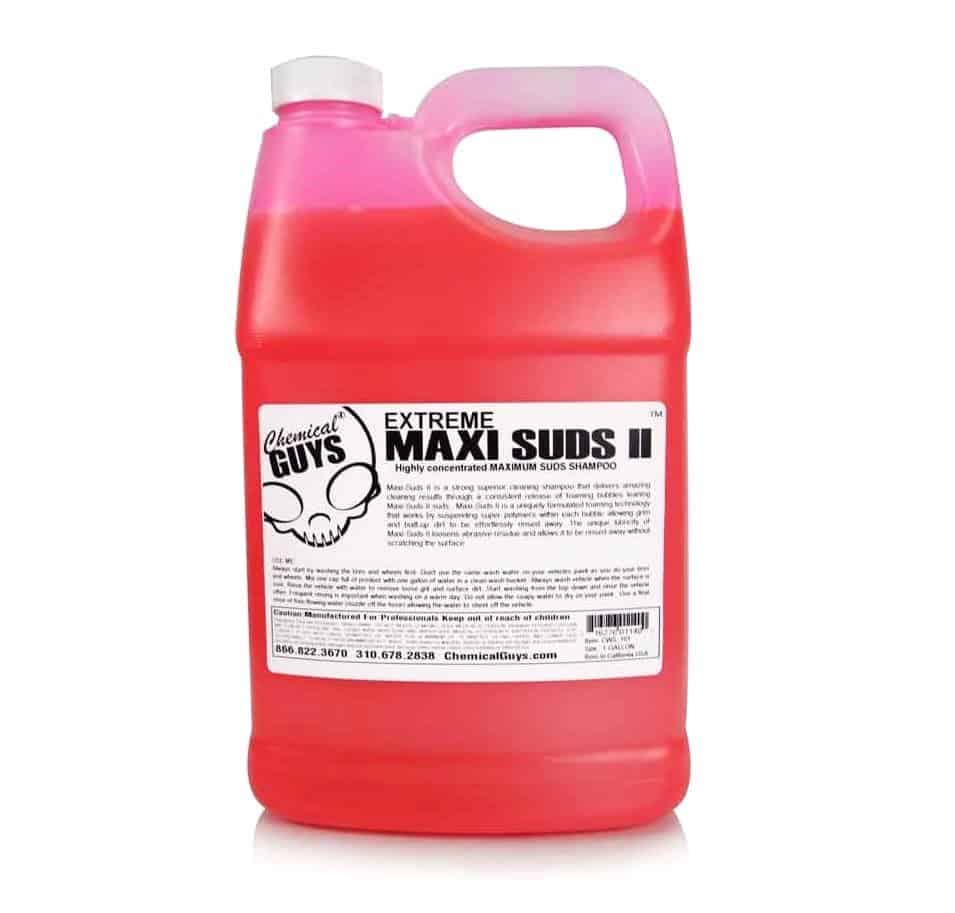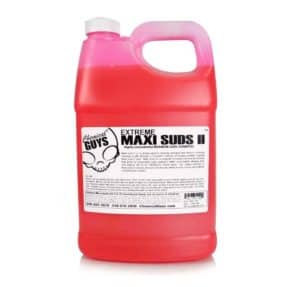 Chemical Guys Maxi Suds II is effective in removal of dirt and leaving a scratch-free shine on the glass of your vehicle. It is a specially designed car wash shampoo that works on the technique of lather formation and foaming bubbles to lift and differentiate the dirt and remains.
Its advanced formula is strenuous on dirt while works gently on paintwork, wax, sealant coatings and glaze. The pH equation formation of the product makes it more effective and does not allow stripping the wax coatings off the windshields. It doesn't leave spots or streaks.
The pink color bottle is available in various size ranges: 16 ounces, 64 ounces, 1 gallon. One ounce of Chemical Guys Maxi Suds II is sufficient for 5 full gallons of water to make an effective solution.
Another great feature of the product is that it can work in any temperature- sunlight or night! The formula gives an everlasting clean impact on the outer coat.
The formula emits a fresh cherry scent which is quite refreshing. The solution is formulated with water softeners that make it compatible with tap water. The outcome of the wash leaves showroom like the shine on the vehicle rating it among one of the most selling products.
How to use:
1 ounce of the liquid should be mixed with 5 gallons of water. Use proper cleaning products and methods to reduce chances of scratches by manual interference.
Things we like:
Shampoo formula can be used on the whole vehicle body
Doesn't leave any stains or dirt
Doesn't harm the paintwork or wax or grease coatings
Friendly with all external temperatures (can be used at any time day or night)
Highly concentrated, small amount of liquid can make large quantity of solution
High foaming
pH balanced
Things we do not like:
some people detest it's milky appearance when dry
high concentration may damage skin, caution required

Hi-Gear HG5653e Windshield Washer Concentrate – 16 Fl. oz.


A windshield washer concentrate for this price seems to be a great buy for the customers. Hi-Gear Windshield Washer is available in a small 16 fl oz bottle and is quite usable.
The product is effective in quick removal of light ice and frost off the windshields of vehicles. The presence of 100 % methanol makes it a streaks free formula. It prevents the deposition of debris, road grime, dirt, and salt builds up while driving.
The product is compatible with all types of washer fluids and can be termed as a versatile year-round formula. It can work as antifreeze in winters while in summers can work as a cleaning washer solvent for windshields. 1 bottle diluted with 16 fl oz water gives protection to -40 degrees F.
The product can be rated as outstanding in terms of performance especially in winter conditions. Though the product seems comparatively new in the market, the customers who have used it rate it as the excellent one in the given price range.
How to use:
One bottle of Hi-Gear Windshield Washer can be diluted by mixing with 16 fluid ounce water for a protection against -40 degrees F temperature.
Things we like:
Very good performance over grime, insects, bugs
Doesn't let the salt layer to build upon the glass panes
Can work both as antifreeze and cleaner
Adaptable in all seasons
Available in a handy bottle to carry
Low priced
Things we do not like:
Very fewer quantities of the product are available in stock.