Driving a car for a long period of time can be very painful. Every day in our city we drive more than three hours. In rush hours, we seat in the jam more or less one hour. On the other hand, most of the car seats are not comfortable for a long drive. There are very few built-in car seats that can give us comfort in long drive. Adding the best car seat cushion for long drives can provide you extra support and comfort in driving.
A long drive can create pain in your back, pelvic bone, thighs, tailbone, and spine. These can make a permanent effect on you. You can prevent these diseases by using a cushion.
There are lots of products on the market. We have chosen the best 7 cushions for you.
Here are the Best Car Seat Cushions (Top 7)
| Product Name | Wash | Special User | Editor's Rating | Price |
| --- | --- | --- | --- | --- |
| Aylio's Cushion | Hand Washable | Professional Drivers | ★★★★★ | Check Price |
| Clever Yellow's Cushion | Hand Washable | Drivers, Travelers | ★★★★★ | Check Price |
| Conformax's Gel Cushion | Hand Washable | Drivers, Travelers | ★★★★★ | Check Price |
| ComfiILife's Cushion | Hand Washable | Pregnant Women, Drivers | ★★★★☆ | Check Price |
| Extreme Comfort's Cushion | Hand Washable | Professional Drivers | ★★★★☆ | Check Price |
| Everlasting's Cushion | Machine Washable | Orthopedic Patients, Drivers | ★★★★☆ | Check Price |
| Skwoosh's Cushion | Hand Washable | Drivers | ★★★☆☆ | Check Price |
Top 1: Aylio Coccyx Seat Cushion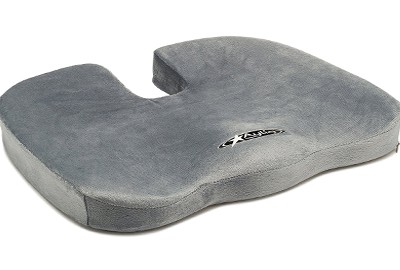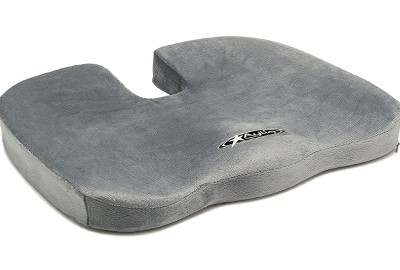 Aylio Coccys is the best product in the market. It has a unique cut-out design that helps you to seat properly. It does not matter what your weight is! You will feel comfortable seating on it.
It has a u-shaped design to ensure that your tailbone does not touch the seat. The counter foam structure protects your butt and upper thighs. This design helps to put the weight evenly distributed all over the cushion.
It is very lightweight, only one pound. This product gives excellent back support and that helps to relieve the back pain, tailbone injuries, herniated disc etc.
Pros
Good Protection for Thighs and Back-Side
Light
High Customer
Reasonable
Can Be Used on Any Chair.
Easy to Wash and Dry.
Cons
Some of the overweight clients say that the product gets out of shape quickly.
People with bigger body structure face problems to adjust.
Top 2: Clever Yellow's Car Seat Cushion with Strap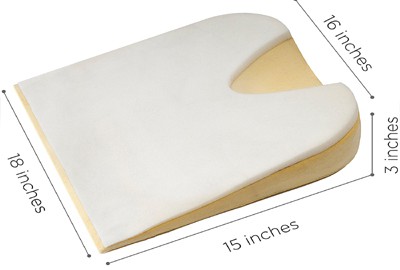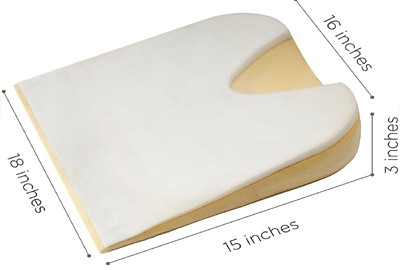 One of the highly recommended car cushion seat. Clever Yellow is a well-known company that produces quality products. This cushion is also cut-out shaped. This helps to relieve the pressure on the tailbone and protects you from the pain in back, thighs, and hips.
This cushion is 3 inches high and this gives you the perfect lumbar support that you need for a long drive. There is a strap to get it well-adjusted to the seat. Some car cushions have a tendency of sliding but not this one. You do not need to worry about readjusting. It stays in the place.
It makes you feel comfortable. It is narrow in size and fits all most on any kind of vehicle seats. You do not have to care about the dirt and soil on it. It is easily washable. You can hand wash it.
Pros
Reasonable price.
Lightweight (1 pound).
Protect you from back pain.
Protect your thighs and hips.
Gives lumber support.
Good for long drives.
Easy to wash and dry.
Cons
Some people find a bit of hard.
It does not help with hip pain

for few people.
Top 3: Conformax's Cocoon Comfort Gel Seat Cushion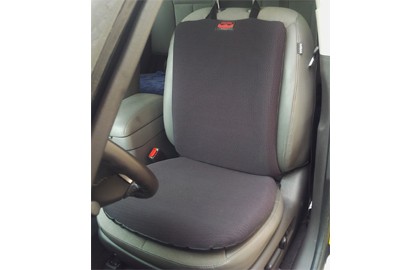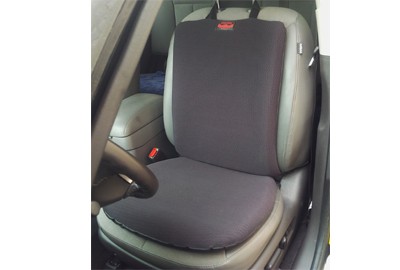 This is a high-end product. This cushion will give you lumbar support and will distribute the pressure all across the seat properly. This will make you feel comfortable. This is extremely good for long drives. The product is made of stretchable fabric. That means it will not get deformed.
Some of the seat cushions are quite hard. This is quite soft and relaxing compared to other. This helps you with back pain; protect your tailbone, hips etc. You can easily hand wash it.
The only problem people feel that it is not coccyx and the price is a bit on higher side. All over this is a very good product.
Pros
Made of quality materials.
Relaxing and comfortable.
Protect your hips, tailbone.
Give you relief from back pain.
Good for long drives.
Cons
Price is bit high.
Heat sensitive people do not find it comfortable.
Top 4: ComfiILife's Coccyx Cushion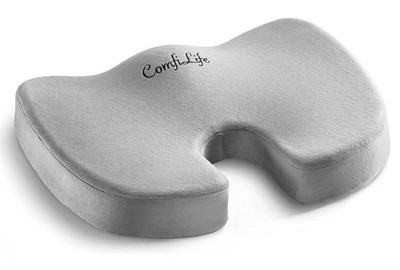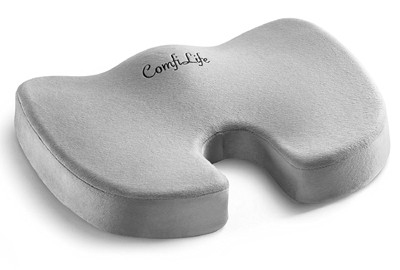 This product has u-shaped cut out design and is very healthy for drivers. This design helps to reduce pressure from driver tailbone. This will save you from lower back pain, give reliefs from sciatica. This company's goal is 100% customer satisfaction. And I must say they are really up on it.
This is also good for pregnant women. This helps to reduce the pregnant women's hip pains. They fell more comfortable seating on it.
This is a non-slip cushion and has rubber belt handle to carry it. You can use it on any kind of chair. You can use it in your office or home. This cushion is not only cars. But it will make you feel comfortable anywhere.
Pros
This is a great product for pregnant women.
Prevent back pains.
Protect your tailbone, hips and other spinal
It can be used in any chair or seat.
Machine washable.
Price is within the range.
Cons
Some people find it small in size.
After sometimes it can fell flat.
Top 5: Extreme Comfort Coccyx Seat Cushion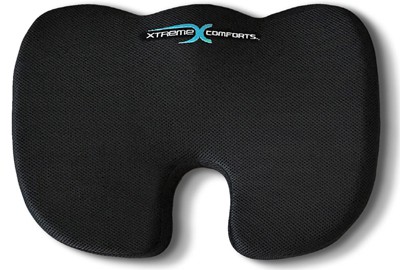 The traditional car seat can cause tailbone pressure, back pain, improper spine alignment. But using only this cushion you can get rid of these problems. It will also give you a proper blood circulation on the back part of the body. It protects you from a pinched nerve and orthopedic problems.
You can use it in office, computer chair, home anywhere you want to. The cushion has a non-skid bottom. So it does not slide. It will remain in the place where you put it. It is very comfortable for long drives.
It is quite long lasting and does not get out of shape after using a while. It will make you comfortable in seating for a long time.
Pros
Great product to prevent orthopedic issues.
Keep the blood circulation.
It makes you feel comfortable.
It can be used in any chair not only cars.
Prevent back pain due to a long drive.
It is long-lasting.
Cons
People find it a bit hard than other cushions in the market.
Some people fell that they should make a larger version of it.
Top 6: Everlasting Comfort Seat Cushion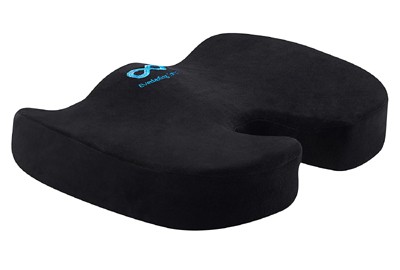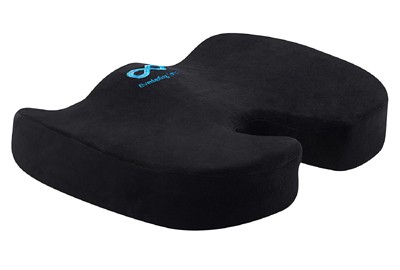 This is very well-known company and product. As from the name of the company you will find that they believe in making a very long-lasting product. This seat cushion makes you feel comfortable on long drives. But this is not only for car seats. You can use it in any chair.
It will help you prevent back pains and keep a proper blood circulation in thighs and hips. This also heats sensitive. This is quite rare to find a heat sensitive cushion in this price range.
The most important thing is that some orthopedic doctors also recommended this cushion to their patients. It will do excellent work on preventing back pain and other orthopedic problems.
Pros
Highly recommended by the doctors.
Heat sensitive.
Prevent back pain.
Good for long drives.
Made for any kind of chair.
Keep the blood circulation
Cons
It does not give protection to the sciatic pain of legs.
It is thick on the front side and that can make you feel a bit of discomfort.
Top 7: Skwoosh Auto Seat Cushion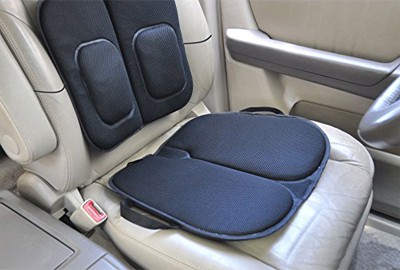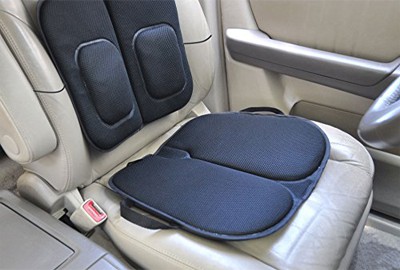 This product is new yet but it has become very popular. The design makes it more comfortable. It will prevent backbone pain. It also gives you relief from tailbone pain.
This is a made in USA product. This has a portable built-in carry hand belt. Ergonomic design helps you drive more freely and put less pressure on the legs. This cushion can be folded. This can be used for both bucket and bench seats.
This product's fabric is easily washable. It does not slip like some other cushion in the market. This cushion is a lightweight one.
Pros
Made in the USA.
Light Weight.
Easily Washable.
Protect you backbone and tailbone.
Comfortable for drivers.
Cons
Some feel that it is small for a regular car seat.
Final Thoughts
If you are a professional driver, you need comfort while driving. Taxi or truck drivers and other professional drivers run their vehicles for a long time. Sometimes we go on long drives just for fun. This can create pressure on our spine, leg, and hip.
Especially the professional drivers can suffer different kinds of orthopedic diseases. These cushions can prevent these diseases.
These are not only made for car seats, you can use them in office, restaurant, kitchen, and stool, in front of the piano. You can carry them with you as they are portable. Every driver must have one of these in their car.