Riding ATV or UTV bike is not always a joy. You may face trouble if you don't have the best ATV winch. When doing off-roading you may not find anyone to help you if your vehicle got stuck. For off-roaders, it is common to get stuck in the mud, especially on rainy days. It's always a good idea to carry an ATV winch. It can save you from uncomfortable places and situations.
Choosing the right winch is really important. For you, reviewing the market we have collected top 5 products here.
Let's See What We Have for You!
Our Pick (Top 1): Superwinch 1145230 Terra 45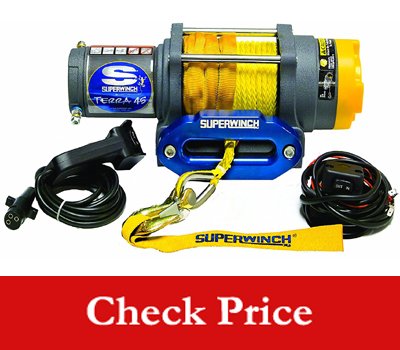 Superwinch 1145230 is our TOP Pick. It is a heavy-duty winch with magnet motor. The motor has a power of 1.6 HP which is enough to pull your vehicle. You can adjust the speed of the motor with its 3 segment speed control. The steel planetary gear is 3-stage and gear ratio is 191:1.
The winch can pull up to 4500 pounds in any situation. The synthetic rope is 55 feet long and it's really hard to break. The thickness of the rope is ¼". It also has 4-way roller fairlead. So, in any bad situation, you can use this to get out.  
The winch is also protected with weather sealed for use in rain or snow. The electrical system is secured with circuit breaker and color coating, so no way of electrical fire.
The product comes with parts warranty for the lifetime. If there is a manufacturing defect, you will get a replacement.
Pros
4500 pounds capacity.
55 feet ¼" synthetic rope.
1.6 HP 12V motor.
Any weather protection.
Heavy duty latched hook.
Dynamic braking with 100% holding.
Wireless Remote (Optional)
Easy to use and long-lasting product.
Cons
All these exclusive features made it the best ATV winch of 2018!
Top 2: Warn 89040 Vantage 4000 Winch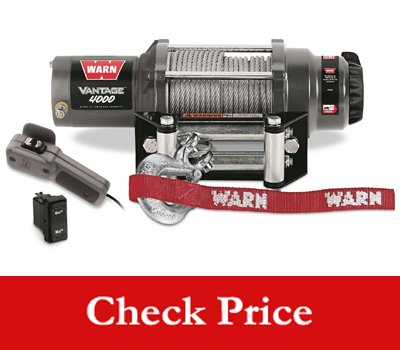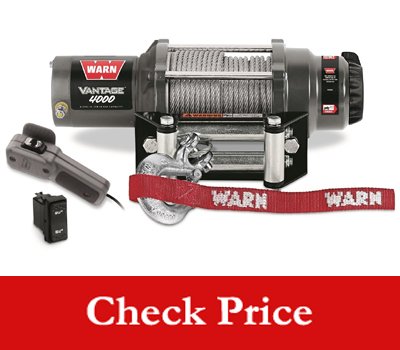 Warn 89040 Vantage 4000 Winch comes with 1.4 HP, permanent magnet motor. The motor can run in 12V DC power source. It has weather seal so you can use it in any weather condition.
The product has 50 feet heavy duty synthetic rope. It's long enough to get out of any situation. It has spring braking system and fairlead roller.
It also has 3-stage planetary gear train. Hence, it's really easy to control the speed of the roller.
Pros
4000 pounds capacity.
4 HP 12V DC motor.
3-stage gear train.
All weather protection.
Heavy duty lock.
Cons
Top 3: Superwinch 1130220 LT3000ATV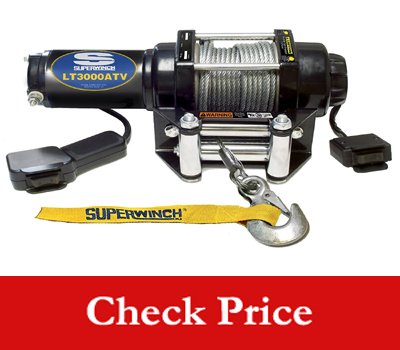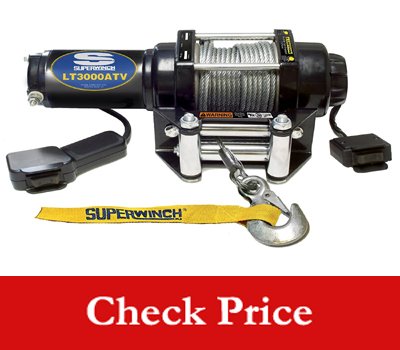 The winch comes with 1.2 HP motor with 3000 pounds lifting capacity. The speed is adjustable with 1-stage planetary gear control. It also has a free-spooling clutch with ergonomic control.
Superwinch 1130220 LT3000ATV has 50 feet 3/16" synthetic rope. The length is good enough. It also has heavy duty clevis pinned latched hook and 4-way roller.
It doesn't have a wireless remote. The handheld remote wire is 12 feet long, so, it's good for controlling from a distance.
Most importantly, it has automatic braking system with 100% holding.
Pros
2 HP 12V DC motor.
3000 pounds capacity.
Automatic brake with 100% holding.
Clevis pinned latched hook.
50 feet synthetic rope.
All weather protection.
Cons
1- stage planetary gear.
2 years limited warranty.
Top 4: X-Bull 12V 4500LBS Recovery ATV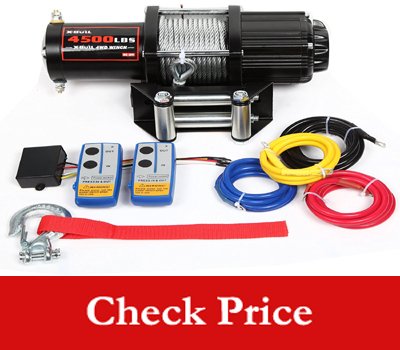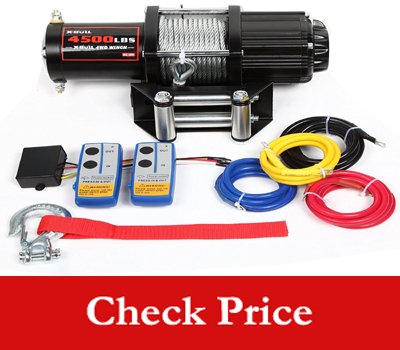 The main attracting of the product is its wireless remote control. You get 2 remotes with this product. However, it comes with a 1.3 HP 12DV motor which has a permanent magnetic system. Its capacity is 4500 pounds, which is quite high compared to other products.
The product has high tensile steel cable which is 49 feet long. It is a bit short cable comparing to others but the steel cable gives extra strength and can pull almost anything.
It has automatic load handling break and high-quality mounting plate. The free spooling clutch is really helpful for fast rope payout.
The winch also has power in and out control to keep the load in a positive situation.
Pros
4500 pounds capacity.
3HP 12DV motor.
49 feet steel cable.
2 wireless remotes.
Quality mounting plate.
Free spooling clutch.
Cons
22 pounds weight.
Mechanical brake.
Top 5: Champion Power Equipment 14560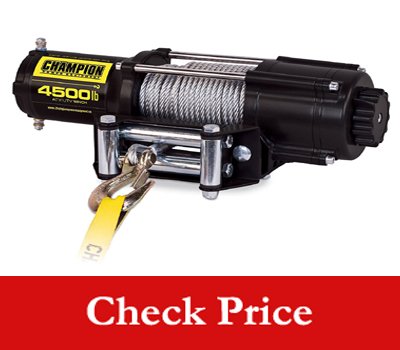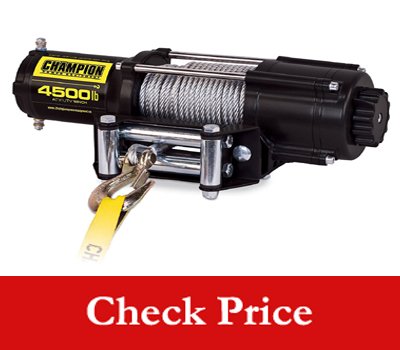 This product has 1.6 HP permanent magnet motor which can easily pull your ATV out of danger. The motor can pull up to 4500 pounds, which is enough for ATV/UTV.
Champion 14560 has 38 feet super heavy duty aircraft cable. It also comes with clevis latched hook and dynamic braking system.
With this product, you will also get a mounting channel, mini-rocket switch, roller fairlead and wireless remote.
Pros
6 HP 12V DC motor.
45000 pounds capacity.
Heavy-duty aircraft cable.
Dynamic braking system.
Free technical support.
Wireless remote.
Efficient planetary gear.
Cons
Heavyweight: 31.9 pounds.
Short cable: 38 feet.
Conclusion
After reviewing all these winches, we found that all are quite good and in a competitive situation. You can buy any of them without any hesitation. It will help you someday!