Looking for the best awning fabric can be challenging if you don't know what you're getting into. You may end up picking the wrong one if you don't know what to look for.
It's not as simple as choosing an awning that matches the color of your van. It is so much more than that.
You need to know the size, shape, durability, and most importantly, the fabric of what you're looking for.
Your choice of awning fabric can significantly improve your caravan's overall feel and functionality.
You'd be amazed at how a simple fabric choice can change the look and feel of your van.
You may not be a caravan awning expert but the least that you should know before looking for one are its three fabric types.
Knowing the three different types of awning fabric will easily help you choose the best awning for your caravan.
To help you, this article will discuss all three kinds and give you a low down on each kinds' pros and cons.
After reading this, you'd be able to easily choose caravan awnings for your RV because you'd know what you want and what to exactly look for.
3 Types of Awning Fabrics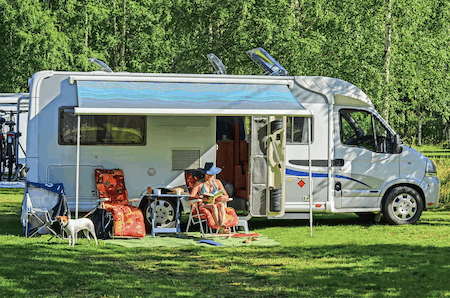 1. Mesh Fabric
Mesh fabric is made of polyvinyl chloride or PVC. It is preferred by caravan owners that want to regulate ventilation in their mobile home.
This allows for more air to get in so it lacks shading capacity from the sun. It is a good mid-way choice if you want to feel ventilated with slight protection from the sun.
It's ideal for summer road trips. It is usually transparent so you won't need to worry if it will fade after years of use.
A mesh fabric does not provide solid shade so it's not the best choice if you're after privacy. It is the most affordable awning fabric in the market.
2. Canvas Fabric
Awnings with canvas fabric are most popular. They are classic caravan staples that many van owners still prefer to this day.
It's been in the market for more than 50 years as it is both affordable and durable. The very first awnings that were made available in the market were made of canvas.
Caravan owners prefer awnings with canvas fabric because of their supreme durability. Canvas awnings can withstand harsh weather and elements if it is made of high-quality fiber.
Canvas awnings also provide solid heat protection. Unlike mesh awnings that can only provide 80% – 85% shade against the sun, canvas awnings can provide 100% sun protection.
This makes canvas awnings perfect for caravan owners that prefer camping and doing leisure activities during daytime.
Canvas awnings can give you solid shade at all times. It does not however allow for better ventilation as air can't easily get through its material.
Canvas awnings are impressive because not only can they provide 100% protection from the sun, they can also provide superb insulation during winter times.
This makes canvas awnings ideal for caravan owners who go on road trip adventures all year round.
Looking for canvas awnings is so fun as they now come in different colors and designs. When looking for the best one for your caravan, you should choose one made of all-natural fiber.
3. Acrylic Fabric
Acrylic awnings are highly durable and light. They're made of synthetic fiber that can resist water and avoid moisture.
As it is made of very light material, it's perfect for caravan owners with folding arm awnings. Acrylic awnings are the mid-way between canvas awnings and mesh awnings.
It is not as transparent as mesh awnings but it still allows for more air to seep in. As it is not as transparent as mesh awnings, they also provide better protection that is close to that provided by canvas awnings.
Caravan owners that go on road adventures come rain or shine will love acrylic awnings because they are water-resistant.
This fabric is highly versatile and customizable. Its main downside is that it's pretty tricky to install. It's also not the most affordable awning option.
Choose Well
Choosing the best awning fabric will highly depend on your caravan lifestyle. Choose one with a canvas fabric if you're after 100% heat protection.
If you're after better ventilation, opt for a mesh awning. Or, if you prefer both good ventilation and better sun protection, an acrylic awning will be best.
If privacy is your no. 1 priority, a canvas awning will be your best option. Finalize your priorities to effectively simplify your choosing process.