We often forget about our wiper blades until we end up with the heavy rain or snow blinding our sight. We should give it more credit and remind ourselves that after all, windshield blades are a safety feature of the car. Many accidents are the result of poor visibility, and that is why it is so important to keep the windows clean, always. To keep your windshield clean during rain and winter you can consider buying Michelin Stealth Hybrid Wiper Blades.
What You Need to Know When Buying Wiper Blades
When you are choosing between few wiper blades, take the one that you can rely on, the one that will perform perfectly in harsh conditions. As dirt and road grime abrades wipers and sunlight breaks down their rubber edges, you will appreciate the blades that can resist all the harsh weather, especially if they don't rust easily.
The good news is that high price doesn't always mean the high quality. Therefore, instead of buying the blades that are expensive and that need often replacement, find the one that keeps the high performance even after a while. However, worn out blades can damage your window glass, so don't wait until it's too late to replace them. Measure your blades first to be sure that it will fit your car.
Many blades perform their best only when they are new, which means that their performance drops off quickly after that. The good news is that you don't have to spend a lot of money to get good performing windshield wipers.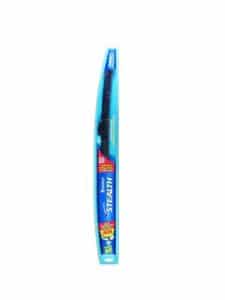 Why Michelin Stealth Hybrid Wiper Blades?
Many expensive windshield blades provide excellent performance, but most quickly degrade after only a few months of regular use. First, they start leaving lines of water behind, then comes the smearing of the water or missed areas of wiping. But not with these blades.
It is most common to replace your blades twice a year, maybe at the beginning of the winter and then again for the summer. Because these two seasons are particularly challenging for wipers. But what if you find wiper blades that last longer, and are equally good in the winter and in the summer?
Hybrid Wiper Blades is for sure one of a kind when it comes to windshield wipers for your car. Mainly because unlike many other windshield wipers, it seems to meet everybody's needs, no matter the demographics and type of cars. It is most probably compatible with your car.
This product includes a protective layer, which is the main reason why it doesn't degrade as fast as many other products. It is well rounded and way above average products offered out there, especially the ones with same price tag.
It has some great features for a product that is not really expensive when it comes to useful and safe for use windshield wiper blades.
In order to be able to decide whether this product is what you have been looking for, let's go through some of its elements that may help you decide if this product is really worthwhile.
What People Really Think About The Hybrid Blades
Even though it is not stuck with one season only, this product has been way effective during the winter. And because of that, it is surely above many other windshields. It will clear off almost anything that comes its way, and it is resistant to jamming, especially when it scrapes across the iced windshield. It also has a protective layer that is preserving its high performance over time. Therefore, if you are looking for an effective product, you have found yourself one according to many people that tried it.
Anyone who has noisy windshield blades knows how it gets frustrating, especially when you are out there in the heavy rain. Even though there are probably many products that could beat this hybrid, but it will definitely not scare you every time you start it. It does operate very quietly, no matter the situation, even when it is just moving across a dry window. You can say that it is above average even for this feature, and it for sure beats every product with same price range. If you are looking to replace your average noisy windshield blades; this product is the right choice for you.
When it comes to performance lifespan this product is holding up longer than most windshields out there. Its effectiveness stands though time mostly because its protective layer that holds it up even after long periods of both regular and irregular usage. Unlike many other blades that rust over time, this will not happen to the Michelin Stealth Blades. If you are looking for a blade that will stick with you for a while, or you are tired of having to buy new ones often because it degrades after a while, this is a product that you will be able to get quite a bit of use out of it.
Like all these features are not enough to make us pay attention when it comes to this product, they are also very easy to install. Unlike many other wiper blades, this product literally snaps onto their designated joints. You are only a few seconds away from getting a blade that will perfectly feet to your car. Installing windshield blades has never been easier.
It comes in 10 different sizes, and it follows your windshield's level of curvature. This makes it compatible with an endless range of cars.
No matter the quality and big company names, when it comes to car products there is always a small chance that something will not work as it supposed to. However, with this product, you don't have to worry about how you wasted your money if something breaks down. In other words, this product comes with a parts warranty. The manufacturer will replace any broken parts on their product. However, keep in mind that this only applies to broken parts which were the fault of the manufacturer. You can change the broken pieces up to a year after the initial purchase, which is a great news if you are tired of wasting your money on products that have poorer performance than expected.
Why is it the Best Wiper Blade?
If you are looking for a product that is not expensive, these blades are the best choice and they are worth every dollar. If it is compared to other products that are in the same price range, Michelin Stealth Hybrid Wiper Blades will beat them every time. This blade is well-rounded and will have your back no matter how bad weather you will be facing on the road. It showed great performance in heavy rain, snow, and ice. However, it can be great for you even if you're living in a warmer climate as it cleans almost anything off the windows.
There may be many products that can beat this product on few levels, but it is definitely above average, which is way more than you get for this kind of money. With these blades, you can be at least confident about its high performance even after some time. It will work the way it is promised and for a long time, which makes it the safer purchase that you can make. It will not disappoint you, no matter the situation.