When you are using your car a lot, what you definitely need is a portable tire inflator, and the best tire pressure monitoring system (if your car doesn't have one). Being on the road a lot can be irritating if you do not have a TPMS, even if you are checking your car regularly.
Why is Buying the Best Tire Pressure Monitoring System so Important?
While on the road, many things could happen. Even if you just checked your auto and all your tires, there could still be a small leak that could make a big problem. If you drive your car with uneven pressure in your tires it can be not only devastating for the tires (soon you will have to buy new ones) but also for your car.
If your tires are leaking, your car will need more power than usual, and you will start paying more for the gas. Also, driving like this could cause your vehicle to break down sooner, as your engine will always be working with extra power.
Slow leaks that get discovered when miles away from home or a gas station could also be dangerous, scary and very expensive.
If you are still wondering if you really need this product think about if you are comfortable covering up your engine, oil, pressure gauge and temperature gauge and driving on your trip?
If the answer is yes, you don't need this product.
How to Choose the TPMS and What Should I Expect?
The TPMS is another of the critical warning gauges/systems that can alert you to a tire failure before it causes major damage or worse, an accident.
One of the good advice is to choose the right company. Go with the one that has been in business awhile and that will be there if you need support in the future.
There are many products that have amazing reviews. However, if you buy the one that was put together overseas, be ready that they won't be there for support or parts in the future.
If you are looking for a good product, your job is not going to be easy. There are just too many options for this kind of product, which makes it hard for you to choose.
That is why we made a short list of products of our choice, which could be better option for you, depending on what you are looking for.
Top 3 TPMS
1# STEELMATE® DIY Wireless Real-time Monitoring TPMS With Large Clear LED Cigarette Lighter Plug Display, 4 External Sensors Digital Guage (20-50 Psi)
This model is round with single colored LCD and with best TPMS. The battery could last at least 2 years. What is very important is that unlike many others tire pressure monitoring systems, this one comes with the battery that can be easily changed when drained. Pressure range of this TP-74 Model is about 0-3.5Bar/0-50PSI (1bar=14.5psi).
Despite its minor drawbacks, this system is a great choice and highly recommended to everyone who wants to be sure their tires are safely inflated at all times. With this product, you can have all the information without having to physically break out a pressure gauge all of the time.
STEELMATE® DIY Wireless Real-time Monitoring TPMS will reflect even the slowest pressure loss. Therefore, it will alert you to fill the tires before it becomes dangerous. With this product, you can feel safe being on the road, especially if you plan to go on long road trip.
Pros:
Long lasting battery that could easily be changed when drained
Free attached little tool case (will make your battery changing work a piece of cake)
Accurate product
Installation of the system is fast and easy
It is not suitable for motorhome
Device and the TPMS display will turn on and off with the car every time
Cons:
They could be subject to theft
If your car's cigarette lighter is too deep, this product may not work on it
The tire units are a little larger than a normal valve stem cap, so you may not like how they look on your wheels


#2 EEZTire Tire Pressure Monitoring System – 6 Sensors (TPMS)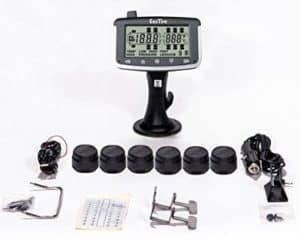 This product is reliable and easy to install. It has large LCD screen and built-in rechargeable lithium battery. There is an automatic backlight as well.
EEZTire TPMS monitors up to 22 tires maximum. It reflects high/low pressure and shows temperature warnings. Alerts are visible and audible. There is a long range between sensors and monitor, which is a big plus. There is also an option to select pressure units.
These particular sensors do not flow through and you have to take the sensors off each time you want to add air. However, they are easier to remove than valve stem covers.
Unlike many other sensors, you can replace the batteries in these units if drained, so you aren't forced to keep buying more sensors. However, you don't have to worry about it as the battery lasts around 3 years.
However because the sensors can be opened to replace the battery, they can also leak water if care is not taken, so the silicone sealant should prevent that until the replace the batteries is needed.
Pros:
This is a very good product at a reasonable price
It can be used on motorhomes
Accurate
Will alert when there is a loss in tire pressure
Updates its readings frequently
Sensitive enough to tell what side of the vehicle the sun is shining on
Doesn't stick out as far on the valve and less likely to get damaged by road hazards
Cons:
It takes up to 10 minutes for the unit to get a signal from the sensors when it is powered up
Security system is poor – it may not prevent them from being stolen


3# VICTONY TPMS Solar Energy Tire Pressure Monitor System with 4 Sensors Protect Your Safety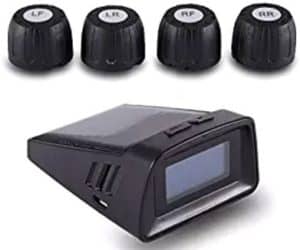 This product is the great way to monitor tires and plus it is not expensive. It is very easy to install so you can forget about all the tricky and complicated installations that you have experienced before.
The product is sensitive and ideal for traveling long distances. The solar powered display unit is great. There is alert for high and low pressure and high temperature. There is also a fast leakage alert that will show you the failure before it causes major damage.
VICTONY TPMS Solar Energy Tire Pressure Monitor System works great on motorhome tires. Constantly monitors all 4 of the tires so you will know when you have to put an air in them.
There are multiple ways to connect to secure network. Great product for a car with no built in TPMS. Highly recommended!
Pros:
Reliable and easy to install.
Fixed high/low pressure/temperature warnings
Displays pressure or temperature of 4 tires simultaneously
Sensors batteries will last about 2-3 years
Pressure Range: 0 – 3.5 bar
Cons:
So far without complaint, all five stars for the product!